NewTiburon.com Professional
Join Date: Jan 2012
Location: Minnesota
Posts: 500
Mentioned: 24 Post(s)
Tagged: 0 Thread(s)
(Thread Starter)
Re: Phoebus's 03
---
Quote:
Looking great so far :-)

Where did you get the billet radiator brackets?
They are made by Full Blown Motorsports. They are technically for a Honda S2000, but fit our cars. If you want to use with a radiator for our cars you may have to make the hole in the rubber part slightly bigger.
Radiator Billet mounts
---
2003 Tiburon GT V6 6sp Turbo?
To view links or images in signatures your post count must be 5 or greater. You currently have 0 posts.

1987 Pontiac Fiero GT v6 5spd - Sold

Old mods: NGM Sniper Stage 2, 360cc injectors, NGM 70mm BBTB, Hydra 2.7, 255lph Fuel Pump, DC ceramic headers, DC Catback, AEM CAI, Koyo Radiator, ARK STS, KJB Delrin Base Bushings, TWM Solid Cable Bushings, ARK LW Red Pulleys, ARK Rear Sway Bar, NGM solid motor mounts, Ported Lower Intake, CF Hood
NewTiburon.com Professional
Join Date: Jan 2012
Location: Minnesota
Posts: 500
Mentioned: 24 Post(s)
Tagged: 0 Thread(s)
(Thread Starter)
Re: Phoebus's 03
---
Just the update. Picked this up today. The water inlet and outlet housing is all going to get powdercoated tomorrow so will look a little nicer than it does now.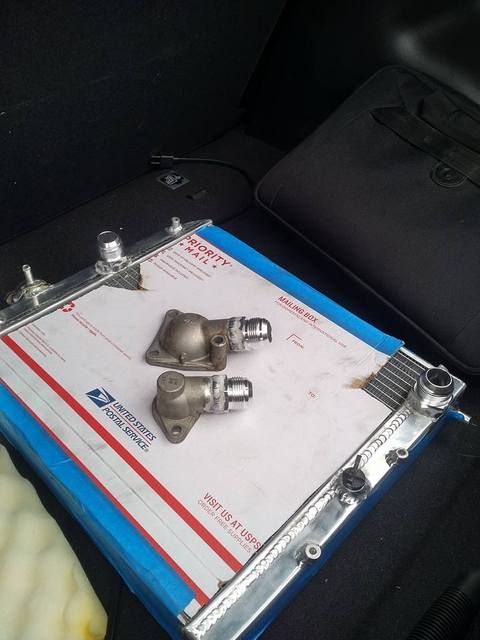 ---
2003 Tiburon GT V6 6sp Turbo?
To view links or images in signatures your post count must be 5 or greater. You currently have 0 posts.

1987 Pontiac Fiero GT v6 5spd - Sold

Old mods: NGM Sniper Stage 2, 360cc injectors, NGM 70mm BBTB, Hydra 2.7, 255lph Fuel Pump, DC ceramic headers, DC Catback, AEM CAI, Koyo Radiator, ARK STS, KJB Delrin Base Bushings, TWM Solid Cable Bushings, ARK LW Red Pulleys, ARK Rear Sway Bar, NGM solid motor mounts, Ported Lower Intake, CF Hood