Discussion Starter
•
#1
•
** 201

3

Car of the Month - May – Best

Black Ti

buron

**


Winner =

GeneralDuke
Congratulations GeneralDuke~! Your car is the Car of the Month~!!
GeneralDuke
2005 Carbon Black Tiburon GT V6
Intro
My very first car was a 89 Ford Aerostar. Couldn't go 55 without the damn thing shaking, but it got me to where I needed to go the first couple years of driving. After looking around for something that would actually be reliable, I found something that not only would be safer than the minivan, but a whole lot better looking. It was an 03 silver v6 tib. It had 43k miles on it and I couldn't have been happier getting it. I found this forum back in 2004 and shortly after, I started modding. Not very big mods. Exhaust, CAI, rear sway, wheels, etc. After only a few months of owning it, it was totaled in an accident. T-boned in the middle of an intersection. It was rough losing the 03, but just a week or so after I was driving in a brand new 05 midnight blue. And that's where this tib started. Not much modding done the first couple years, but towards the beginning of 2007, I just couldn't fight the itch anymore. I finally signed up here and started diving into all the info this place has to offer.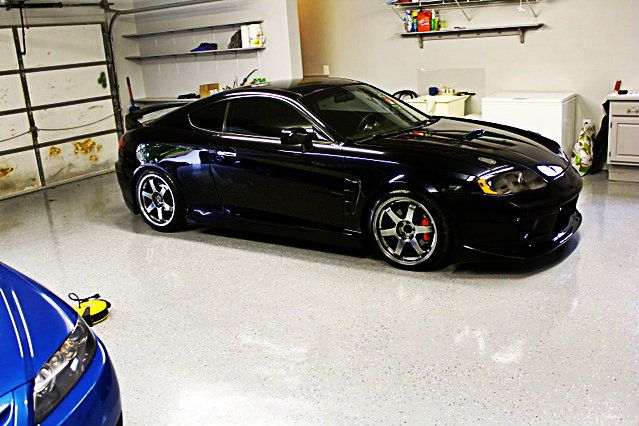 Why the Tiburon
There were a few other cars I was considering before purchasing my first tib. I looked at SRT4s, GT-S Celica's, RSX Type-S, etc. Now even though these other cars were probably a better platform, I just couldn't help but love the looks of the tib. I knew the power wasn't really there, but I didn't care. I wanted something different and that's exactly what I've got with the tib.
For a few years, the 05 was my DD, but as I progressed more with modding, it became obvious that daily driving the tib just wasn't practical, especially when I started a family. The past several years it was a leisure car that I drove mostly on the weekends. Since it was painted, it's now mostly garaged.
Motivation behind the build
This forum has really kept me going with the tib over the years. Seeing what others have done to their tibs, has really inspired me to push the envelope. I really do take pride in what I've done to the tib. I believe it has given me a drive and passion for cars that I never had before. Something I will carry throughout my life.
Most challenging mod
I wouldn't say it was the most challenging mod, but the Aerocatch hood pins were very stressful to install. Cutting into a $750 hood isn't something to take lightly. I took my time, measured several times before I even started cutting, and then came the headache of getting everything lined up so the lock pins would fit correctly. It was a major PITA if you ask me. The sniper install initially was time consuming and challenging, but after a few times removing it, it's pretty easy now. I wouldn't want to do the hood pin install again.
​