Black KDM Tuscani
Last Edit: Dec 2009
Back in 2001 i saw a rallyred RD tiburon which i liked but it wasn't a WOW to make my mind for it. Then later in 2005, I was crossing by an import car showroom, and this piece of art was sitting there. I was just caught with it's charm and could not resist to park and get closer to it. It took like 30 minutes and a very short test drive to make me do the buy. The local dealer hadn't put this in market in 2003. It didnt take much long after that for this car to spread around.
May be this isn't one of the powerful machines on the roads, but in my opinion it is absolutely among the best looking ones. It makes you feel different and unique in some how, although it's not any most expensive, or powerful, nor the only one any more.
And here she is, my star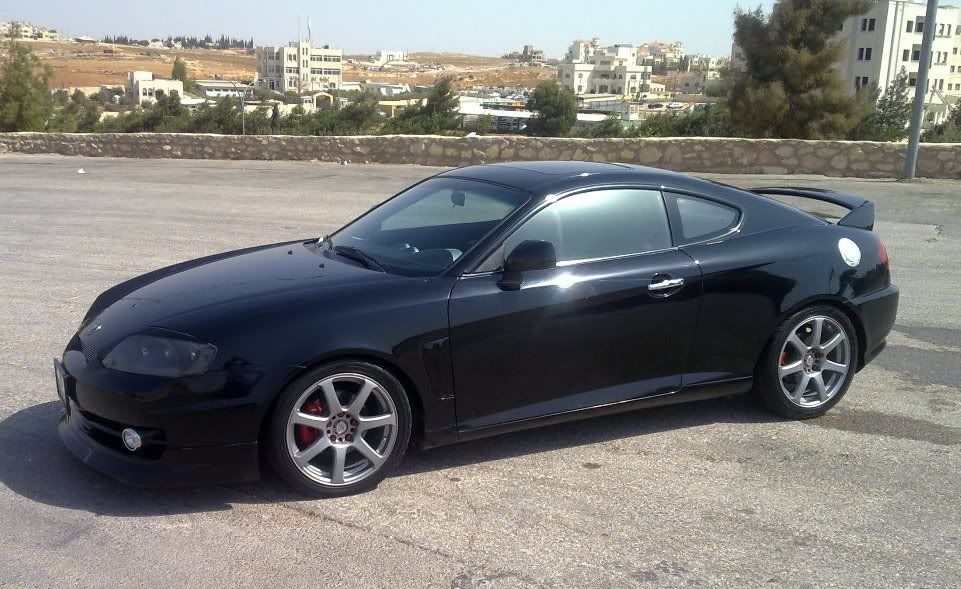 Turbocharged KDM Tuscani
2.0L/I4 - 2002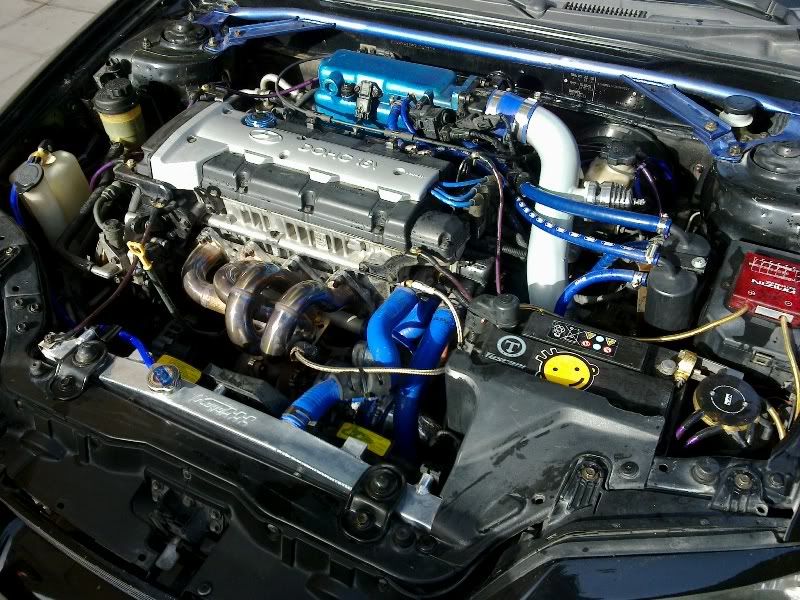 Go Mods:
-SFR Stg1 Turbocharger kit (tuned @9psi).
-Custom Turbo Cold Air Intake
-HKS PowerFlow Filter
-System-Upgrade BBTB
-System-upgrade Acceleration Pulley
-TB Coolant Bypass
-CompactDivisions StgII Ported & Polished Intake Manifold
-IM 1/4" Phenolic Spacer
-System-Upgrade High Flow Race Cat
-Injen SES CatBack w/added Magnaflow Resonator
-VHR Perfromance Clutch & Lightweight Flywheel
-ARK MegaForce Lightweight Pulley Set (Crank, Steer., Alt.)
-Koyo Performance Alum. Radiator
-SuperDrift 1.4Bar Radiator Cap
-System-Upgrade Radiator hoses
-Saikou Michi Dual Chamber Oil Catch Can
-NGK SuperWires & NGK X-Iridium9 Plugs
-SFR ECU Turbo Reflash
-Apex'i Neo AFC
-AEM UEGO Wideband Kit
-Autometer Boost Guage
-Raizn Voltage stabilizer
-HKS Circle Earth Grounding kit.
-Yaya Polyurethan Motor Mounts
-System-Upgrade Engine Damper
-H&R Lowering Springs
-KYB-GR2 shock struts
-RW Slotted & Drilled Brake Rotors w/ Performance Pads.
-Hyundai Front Strut Bar
-Zerosports Rear Strut Bar
-Work Emotion XT7 Rims 17x8.
-Michelin Pilot Sport PS2 245/40-17 Tires.
Show Mods
:
-RoadRuns Front Bumper Lip
-OEM High Spolier
-FFF Custom Painted Tuscani Badges
-Foglight Chrome Rings
-Tuscani Aluminum Door Sills.
-Chrome Door Handles
-F/L Headlights
-RoadRuns Eyelines
-Headlight Corner Tints
-Taillights Redout
-Billet Front Upper Grille
-Red Brake Calipers
-Custom T Wheel Caps
-Parking Sensors with digital distance monitor
-Custom Leather Seat Covers & Door panels
-ARK Short Throw Shifter
-F/L Steering Wheel wrapped in WheelSkins Leather
-Silver Interior Trim
-ARK Aluminum Vents & Ignition Rings
-ARK Temp. Dial knobs
-ARK Multiguage Cover
-Dashboard/GloveBox Guages Custom Mount.
-MidNightWolf T Mission Plate
-MidNightWolf T Steering Wheel Emblem
-RedLine Goods Leather Shift Boot
-Momo Shift Knob
-Momo Floor Mats
-KDM Pedal Set
-KDM Auto Folding Mirrors
-KDM Passenger Cup Holder
-System-Upgrade Dead Pedal
-Keyless Entry & Alarm System.
-OEM Remote 8-CD Changer
-Aftermarket Speakers (Pioneer, F/R)
-Full Re-Paint 2009
-Ziebart Window Tint