Update:

This event has been postponed!!!
Event:
BC/Alberta Summer Meet
Day/Date:
Saturday, June 26, 2010
Time:
TBA
Locations:
Revelstoke and then cruise to Kelowna
It summer fellas! Lets make this a big and fun event. Everyone is welcome!
Attendance List:
BC Crew:
DropZero
~IWB
Jay-M
JGresch
Freddy Yu
03 Elisa
Amy Canuckshark
McMill (maybe)
Alberta Crew:
BlueSpanishShark
Jussy2099
chris929
Shft21 (maybe)
Rex3
boardin_an_biking (maybe)
Phenix3st
The_Hammer
swatsor (from gencoupe.ca)
shor7kid (maybe)
Master Plan:
- Both crews will make their way to the halfway point (Revelstoke) bright and early, don't worry about breakfast, we can always get it on the way; important thing is that we beat the traffic. Make sure that you guys have enough rest from last night since it's going to be a long day.
- Upon arrival at Revelstoke, we will have a meet, greet and maybe brunch. Then we will head south to beautiful Kelowna (see cruise route options below)
- In Kelowna, there are lots of things to do and see.. a few guys already suggested mini-golf, arcade, bumper cars, picture taking and dinner.
We need help and suggestions from everyone especially to the ones who are familiar locally
- Some guys will be staying the night (BlueSpanishShark and Rex3) and anyone can choose to do so. There are a lot of local accommodations to choose from. My personal recommendation the Truck Stop... lol..
Notes:
- Everyone should bring their FRS radios and GPS devices they have any.
- Be mindful of others and use common sense during this meet. You don't want to be the one to be spoiling the fun for everyone.
- This is a long trip/drive so please make sure that your vehicle is ready for the task (check brakes, tire pressure, fluid levels and etc)
Cruise Details:
Option 1:
Long Scenic Cruise to Kelowna through Nakusp via Ferry rides (suggested by The_Hammer)
345 km – about 5 hours 32 mins (according to google maps)
http://maps.google.ca/maps?f=q&sour...0.467995,-118.707275&spn=1.26223,3.485413&z=9
Option 2:
Short Cruise to Kelowna (but it'll leave us plenty of time)
197 km – about 2 hours 47 mins (according to google maps)
http://maps.google.ca/maps?f=d&sour...0.467995,-118.630371&spn=1.26223,3.485413&z=9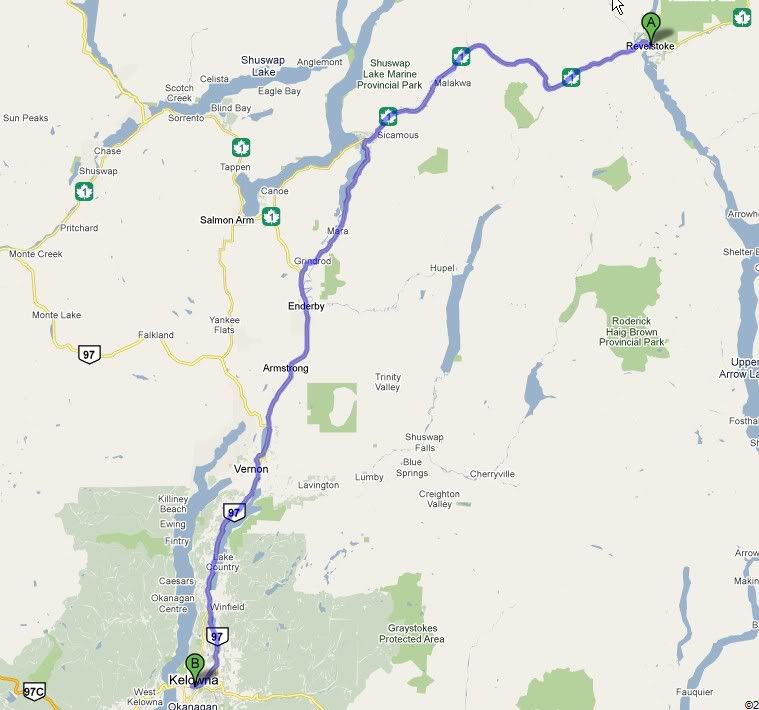 ---