So I've been hanging around on here for a while now, I guess its finally time to make one of these things. (WARNING: Pic Heavy)
Here's my Tib so far: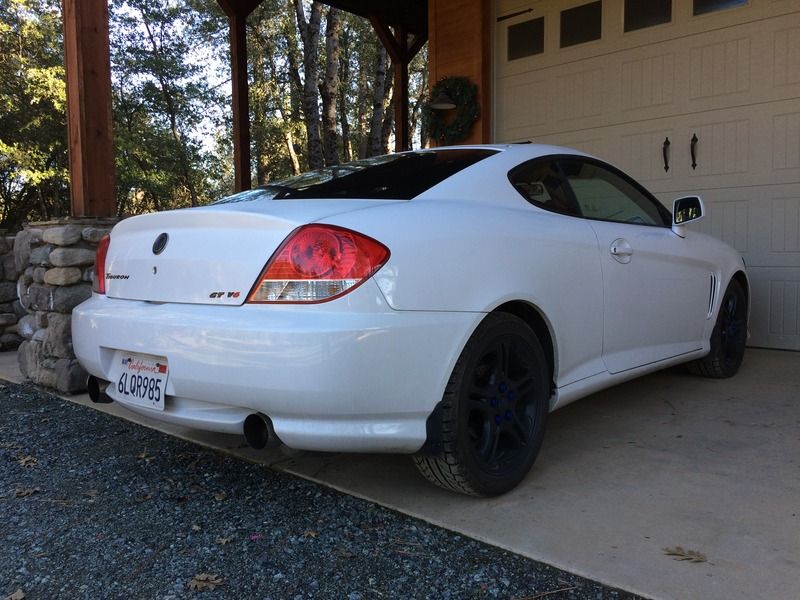 2003 V6 6-Speed
Member Album
Performance
Injen SRI
DC Sports Ceramic Headers w/ Random Technology Cat
DC Sports Exhaust
Mishimoto Aluminum Radiator
Mishimoto Silicone Hoses & 12" Electric Fans
NGK Plugs/Wires
Bosch 190 LPH Fuel Pump
Delrin Shifter Base & Cable Bushings
B&M Short Shifter
Suspension
Nolathane Polyurethane Control Arm Bushings
Tires/Wheels/Brakes
Stock 17" Wheels Powder Coated Black
BF Goodrich G-Force Sport Comp-2 225/45/R17
Stoptech Drilled/Slotted Rotors
Stoptech Stainless Steel Lines
Centric Reman. Calipers & Posiquiet Pads
Exterior
Diode Dynamics Angel Eyes
Diode Dynamics 6000K HIDs (Low Beams & Fogs)
Diode Dynamics LED Switchbacks
Clear Corners (With Custom Painting)
Custom Painted Tuscani Badges & Wheel Caps
Black Powder Coated Wheels
Mishimoto Blue Lug Nuts
Black Painted Fuel Door
FL Tail Lights
Wingless
Interior
Redline Shift Boot
Tuscani Steering Wheel Badge
Rear Seat Delete​
The list above will be updated with my current mods. I'll put a continuously-updated "wish list" here once I get it organized on my computer, but first a quick documentation of my progress so far:
My first car was a 2001 Grand Am that crapped out on me right before graduating high school. I could've just dropped a rebuilt or used engine in it, but I was broke (and I had paid cash for the car) so I decided to park it until I figured out what I wanted to do. Right around this time, I started looking at how much I could make over the summer, and what that could buy me. I had fallen in love with the Tiburon thanks to Forza 4 and a beautifully modified Tib I had seen when I was about 12, but I had no idea that it could actually be within my budget at 17 years old if I played my cards right. So I worked all summer and by the week before I started college, I was able to pay $3800 cash for a 2003 V6 Tib with a 6 speed, and put four brand new tires on it the day after I drove it home.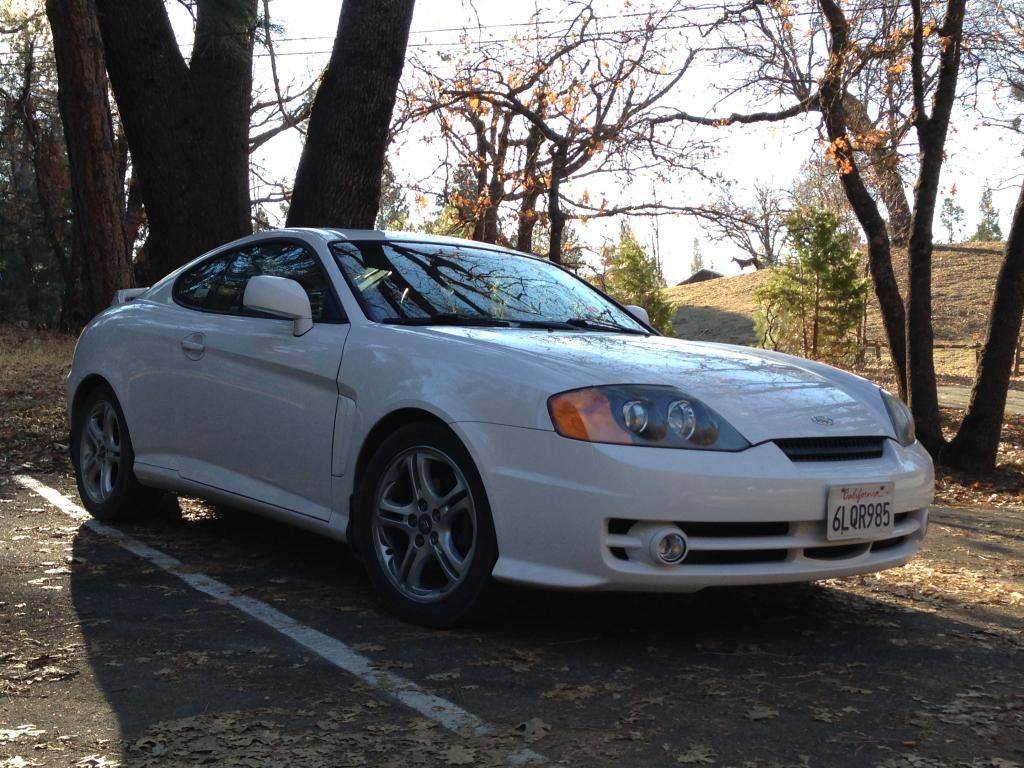 Annnnd then I was broke again.
So for the next six months, I tried to juggle 12 units at the nearest community college, working 20-30 hours a week, and the end of a 3-year relationship with a girl I had already picked a ring for (now very thankful I dodged that crazy bullet
). The following spring saw me taking a semester off school to work and clear my head, doing a LOT of research into what I might want to start doing to my new car, and finally deciding to start with clear corners, angel eyes and HIDs: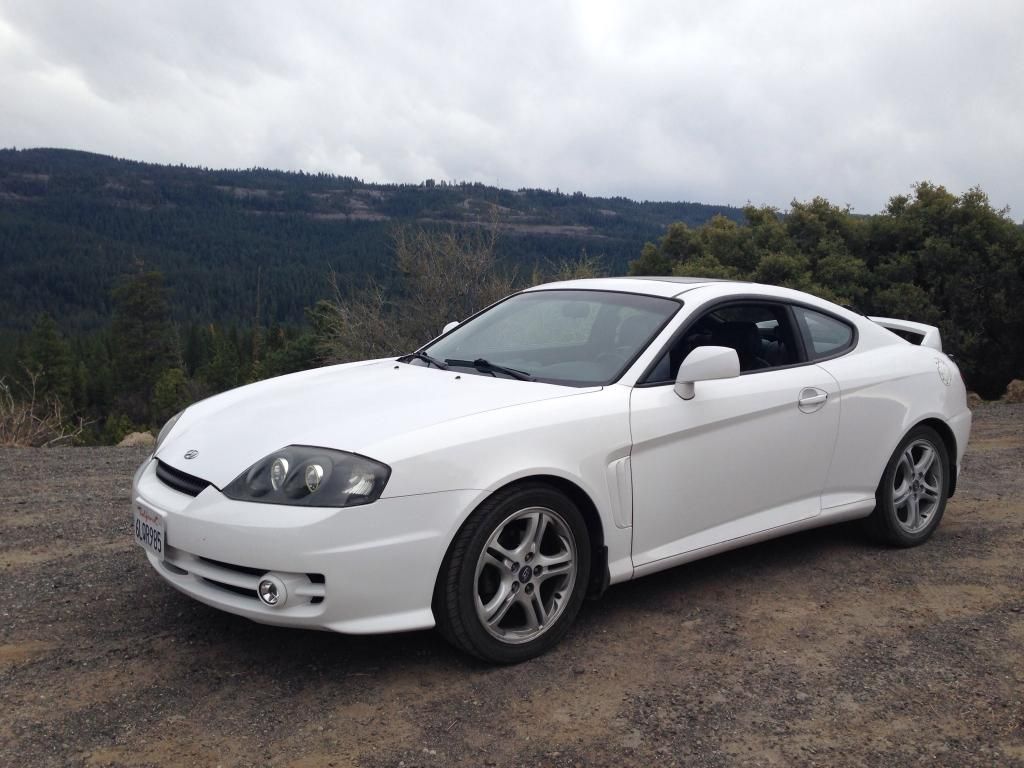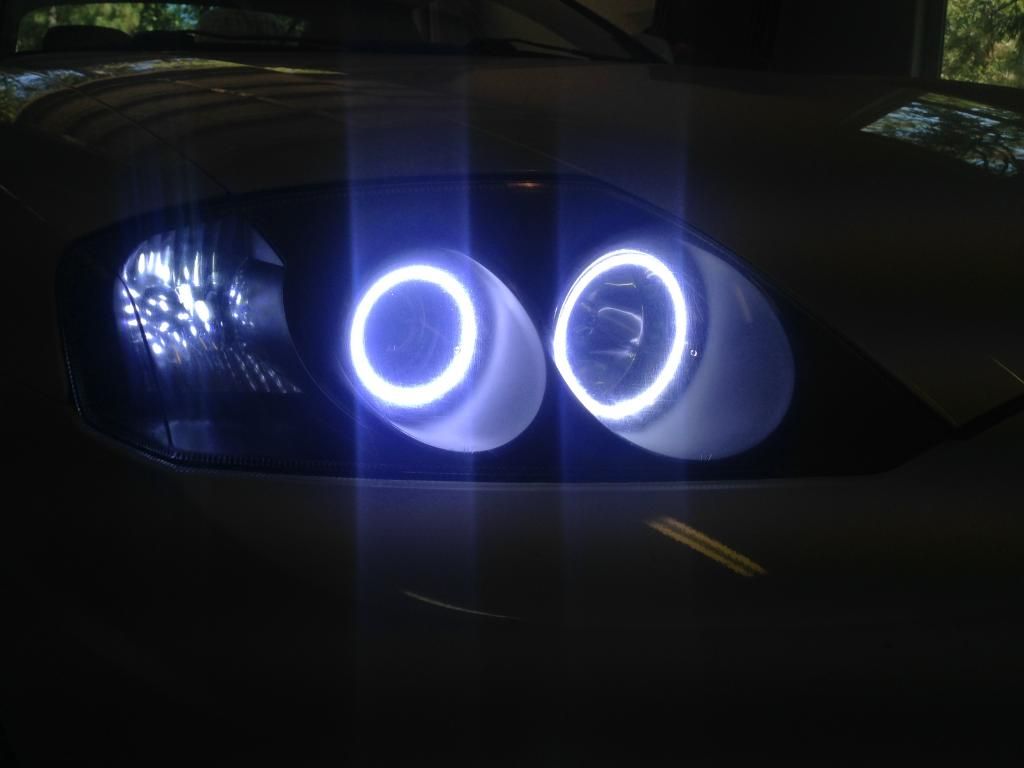 Shortly after that, a new girlfriend and some time off work when the local economy slowed down meant that there was no money for the car for a while. Late summer of 2014 saw some paint: satin black for the stock 17" wheels, metallic blue for the front and rear calipers, and some beautifully custom painted Tuscani badges and wheel caps to match:
Then, a rather tumultuous autumn:
While visiting my girlfriend in LA, a 16 year old girl backs into my car trying to get out of a perfectly wide parking spot: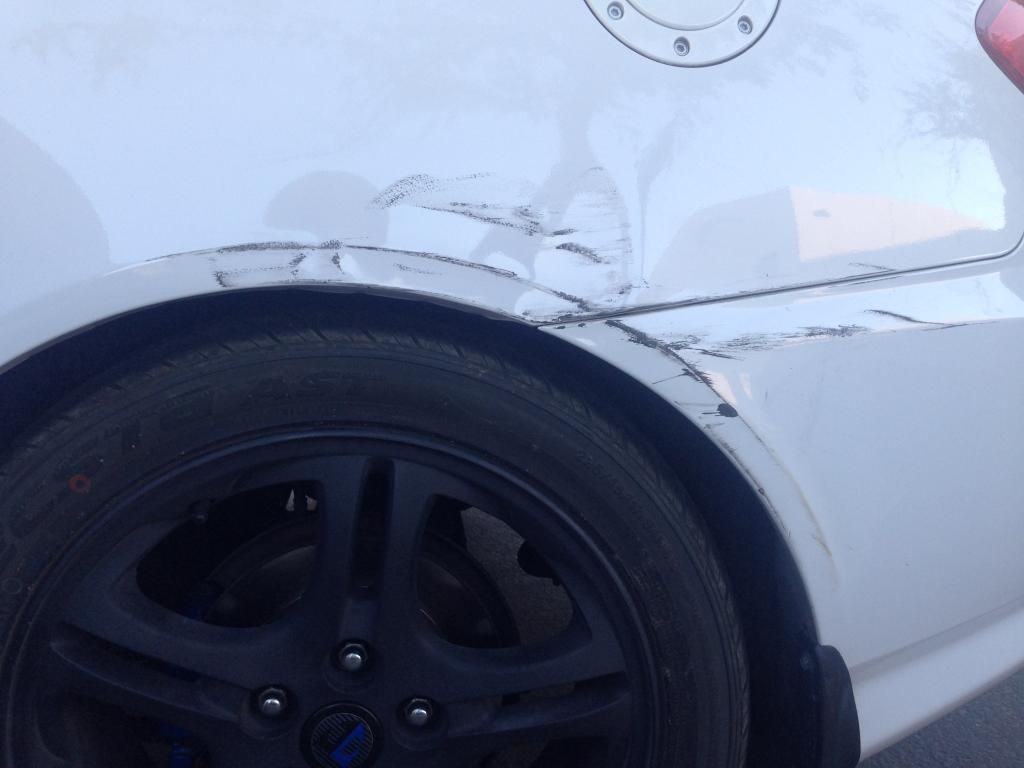 Her and her parents not having any insurance and me not having full coverage yet means its still there as of this writing..
Then spark plugs and wires, timing belt, water pump, and AC delete in preparation for another trip down to LA for thanksgiving: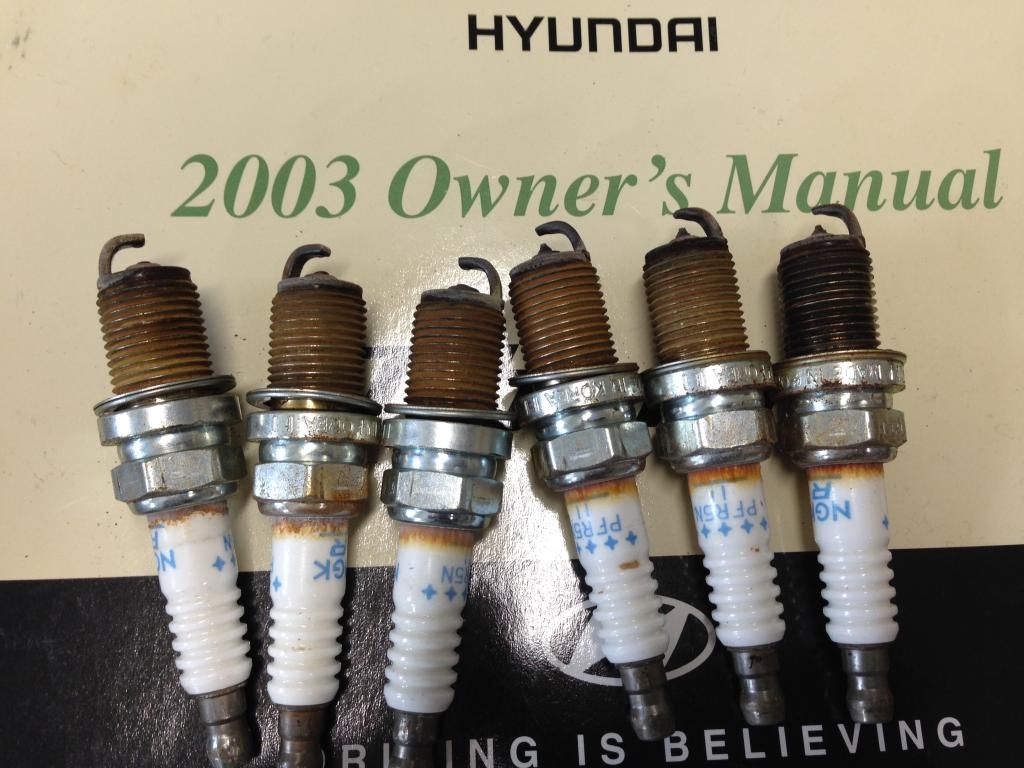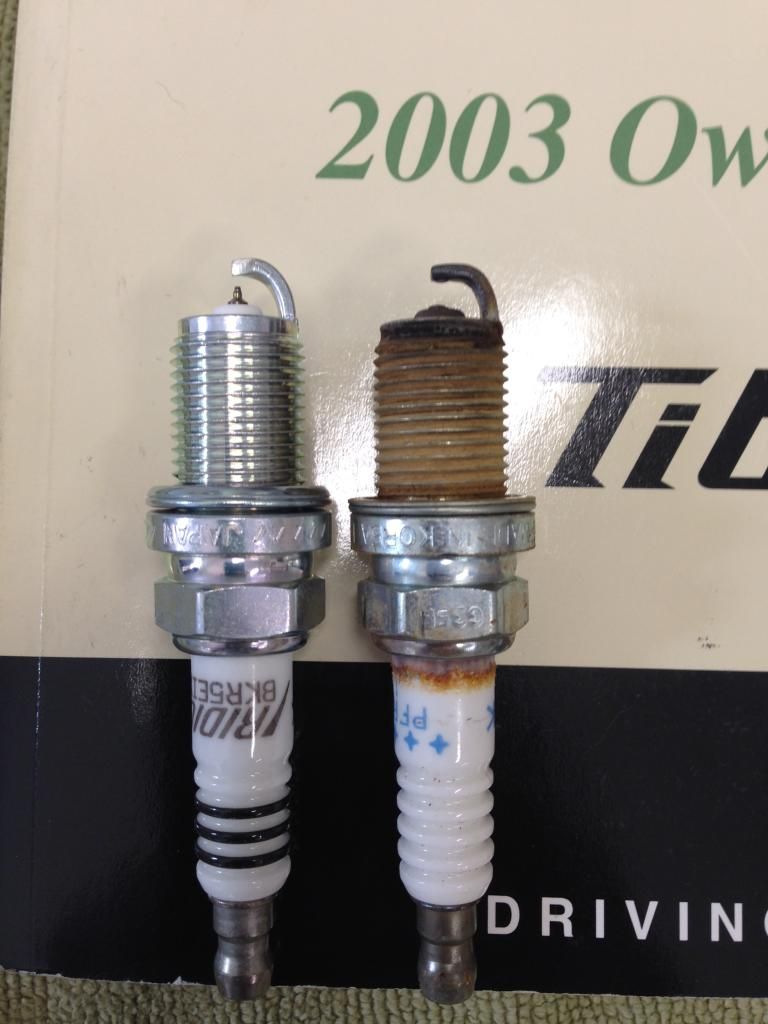 After putting over 1200 miles on my car over the course of the 4 day weekend, I got back home late that Sunday night. The next morning, I blew my radiator on my way to school.
Luck was actually on my side though, because it was Cyber Monday, so Mishimoto was having a huge sale on their top-notch parts!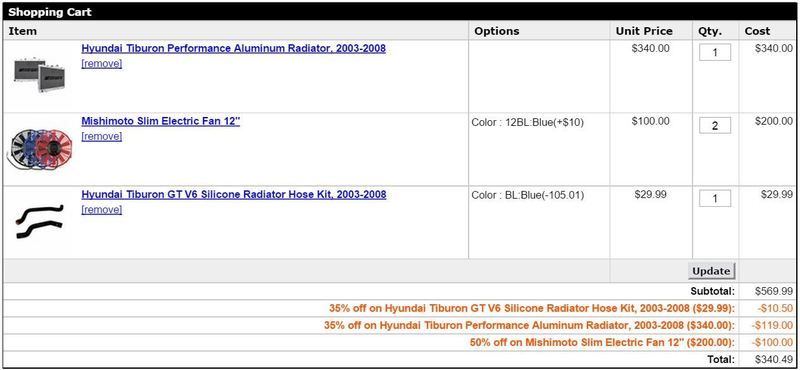 Spring of '15 saw me finally "starting" to really build my car. First a Shark Racing short shifter (crap), some Red Line tranny fluid, and Seafoam!
Then my Injen SRI: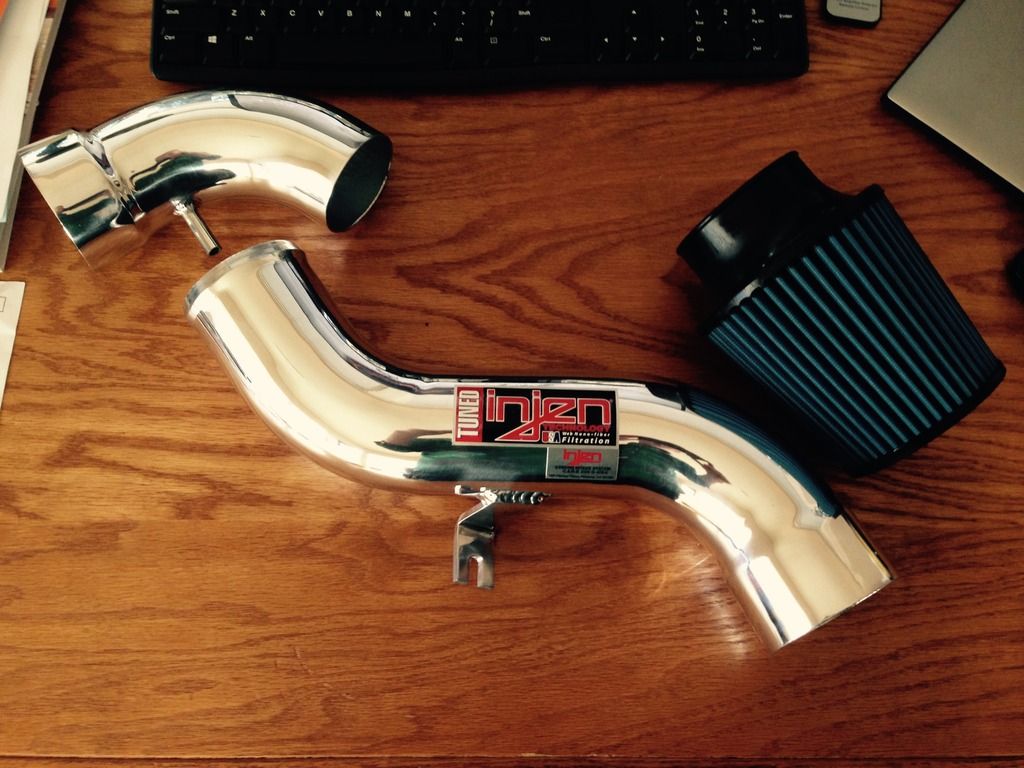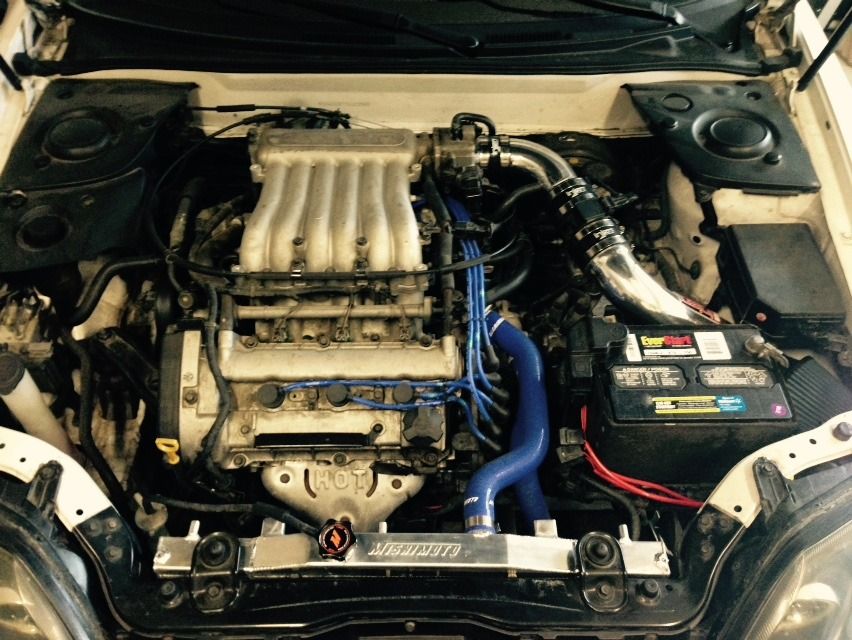 Then either a clogged fuel filter or a dying pump (or both) prompted new filters, a Bosch 190 LPH pump, and as a side effect, this:
Since I had to pull the back seat out to get to the pump, and I never really had any use for a back seat too small to fit anyone over 5'8" I decided to pull everything and keep it out. I'm currently in the design process (and waiting on a few other things to be checked off my list) for a custom rear cargo deck/audio system build that will hopefully happen next winter?? But in the meantime, weight savings!