Discussion Starter
·
#1
·
not sure if anyone has seen the Powdercoating gun sears is selling but its only $150. and doesnt require an air supply.
since my engine is all apart i wanted to powdercaot as much as possible and didnt want to take a bunch of dumb stuff to a powdercoater and have them powdercoat everything and hten later on i decide i wanted this this color or doesnt look right or what ever so i got this gun and figured i would powdercoat peice by peice as i put it back together and be able to tell what colors would look better or what not. its a good thing to because i was goin to be doin most of the stuff in red and black but since my car is silver i changed my mind and am now doing most in super mirror black and silver vein (black with silver all threw it). with an occasional red candy here and there. or blue candy not sure yet. but anywho for 150 bux and 1lb of color from columbiacoatings.com for 12 bux wich by the way had it shipped here with in 3 days i must say it does the job rather well. i mean for smooth colors like the mirror black i wasnt able to get them to lay completely smooth, there is some orange peel but if ur into the textured colors like wrinkles or viens it does a great job! here is a pic of my manifolds in super mirror black, they dont look anything like they do in the pic to much glear or somthin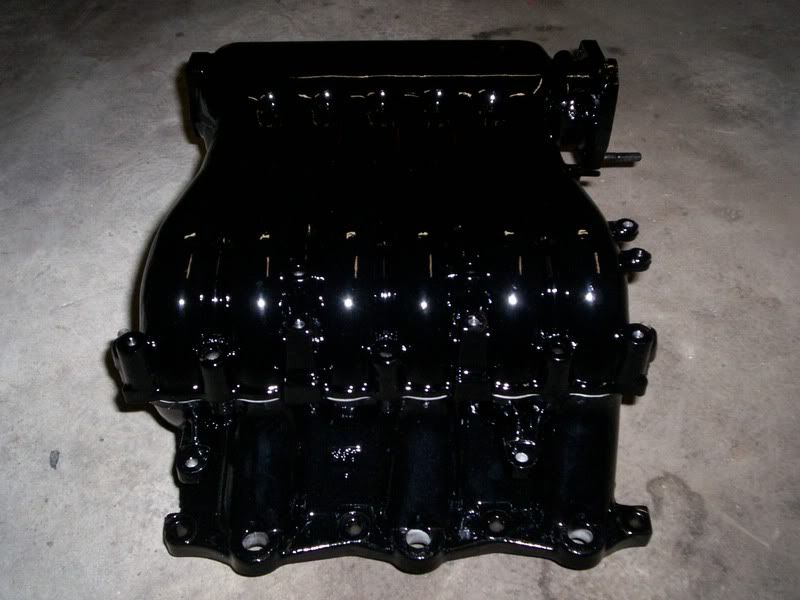 notice i shaved off those 2 little ears sticking out for the engine cover to bolt to, no one will probly ever notice there gone but they would def notice them there with nothing being bolted to them!
my injectors are black so they should go good with the mani but unsure on how im goin to do the fuel rails, those might have to get polished to go with the polished vortech and piping