Okay, so I've been asked by a few members on here to post a DIY on how to convert a 2003-2006 center fascia to an FL2 style from a 2007-2008 sexy looking one, and more specifically how I got my "A/C" button to work (to ACTUALLY turn on and off the compressor).
Although I was not able to post this in the DIY section for some reason (I'm guessing post count) I will continue..
I was only able to write this DIY up with help from these other very helpful threads:
http://www.newtiburon.com/forums/interior/187058-hvac-swap-03-07-a.html
http://www.newtiburon.com/forums/diy-interior/235313-hvac-swap-03-06-07-08-a.html
And before we begin, let me just start out by saying that this is my first DIY, so please be kind in the comments, and help others as I try to do. Also, if anyone needs help or is having problems, ASK! We are modifying the electrical system, it's not very dangerous if you exercise a bit of caution, but stay safe, and ask questions before needing to buy new components!!
It is a pretty involved task, so you will need a lot of patience and the proper tools:
-Dikes (Wire Cutters)
-Wire Strippers
-Soldering Iron
-Solder (60/40 for electrical applications)
-Heat Gun
-Shrink Wrap Tubing
-12v Test Light
-Multimeter
-Patience
-Electrical Tape
-Small and large phillips screwdrivers
- Small and large flathead screwdrivers
-This (Hopefully Comprehensive) Guide
-A Standard 5-pin automotive relay (and wiring harness that goes with)
-Extra wire, some black, and some red (any you have laying around will work, but 18-20AWG will probably work best)
First thing is first, let's dive right in and remove your center fascia:
Open your ash tray, and get a grip on the bottom of the fascia and gently pull towards you.
Be careful not to break any of the 6 clips that hold the fascia to the dash.
(Pretend like this is the crappy looking 03-06 fascia you're getting rid of)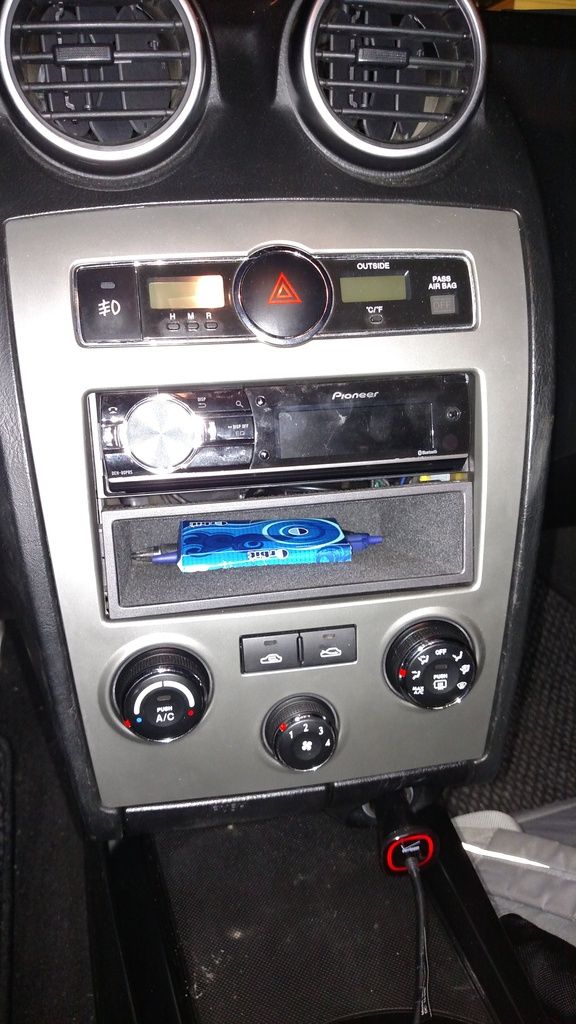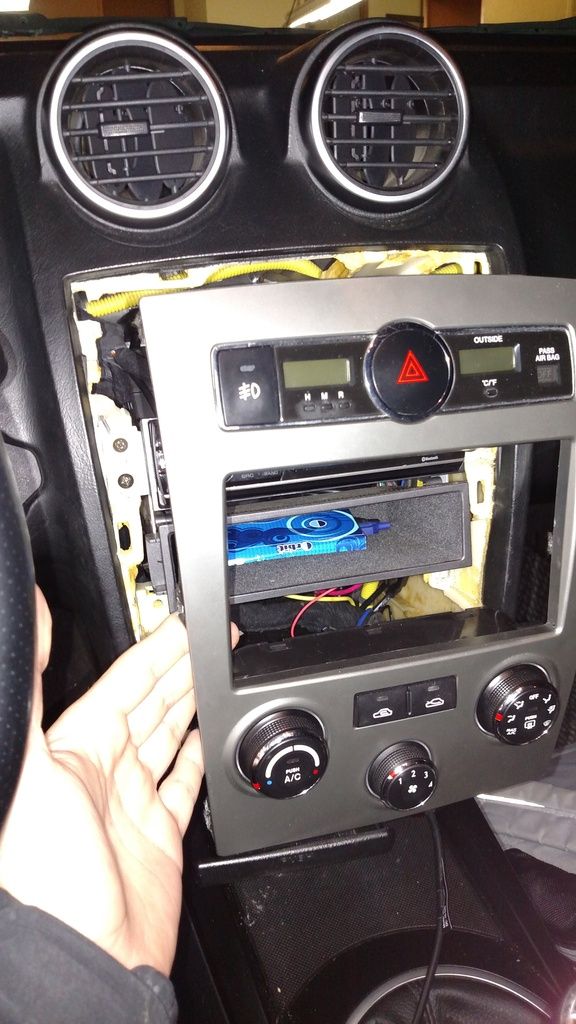 Remove all of the wiring harnesses:
AC harness, Blower control harness, Fog switch harness, Hazard harness, and Clock harness, and you might feel more comfortable by removing the radio as well (4 screws)
Take a look at the blower control wiring harness (The big 6-pin connector right in front of you), This is what we'll be working with first.
(Keep in mind these pictures were taken AFTER the swap was complete)
I wasn't fast-thinking enough to take pictures before completion.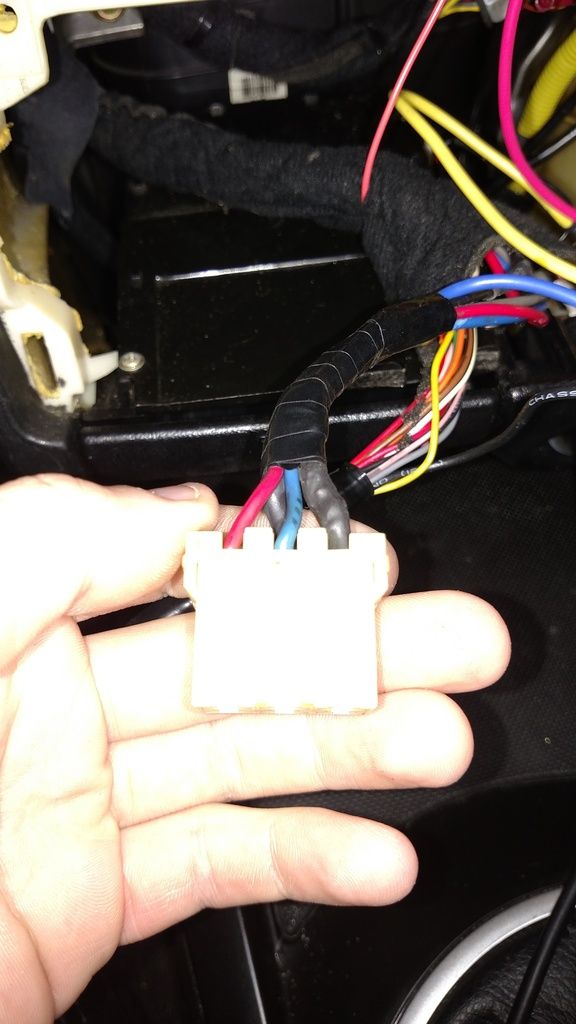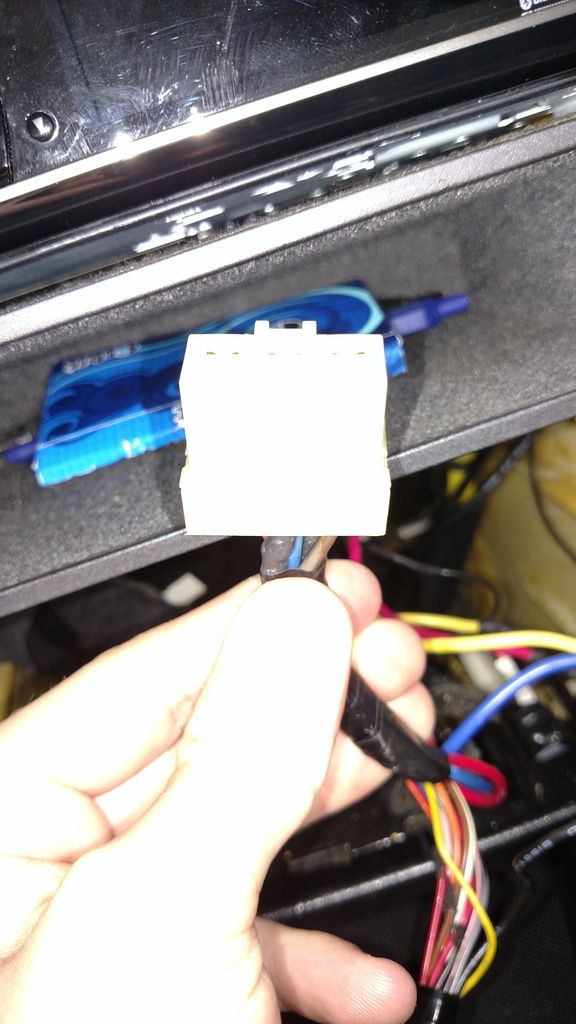 Using your smallest itty bitty screwdriver, unlock pin #2 (Orange w/ Black stripe) and remove from harness. (You'll be doing this several more times so get used to it).
Remove pin # 1 (Blue) and stick into # 2 slot until it clicks into place.
Remove pin # 3 (Black) and stick into pin # 1 slot.
Remove pin # 5 (Red) and stick into # 3 slot.
Remove pin # 6 (White) and stick into # 5 slot.
The wire in the # 4 spot (Brown) stays where it is.
We'll be using that Orange w/ Black stripe wire in a few more steps. Don't let me forget about it!!
PLEASE MAKE SURE TO KEEP AN EYE ON THE PRINTOUTS I HAVE FOR YOU TOWARDS THE END OF THIS POST. IT WILL MAKE THINGS INCREDIBLY EASY FOR YOU TO FOLLOW.
That wasn't so bad right??? It gets worse. =(
Now we're going to look at the 23-pin connector that also plugs into the same module (the AC switches)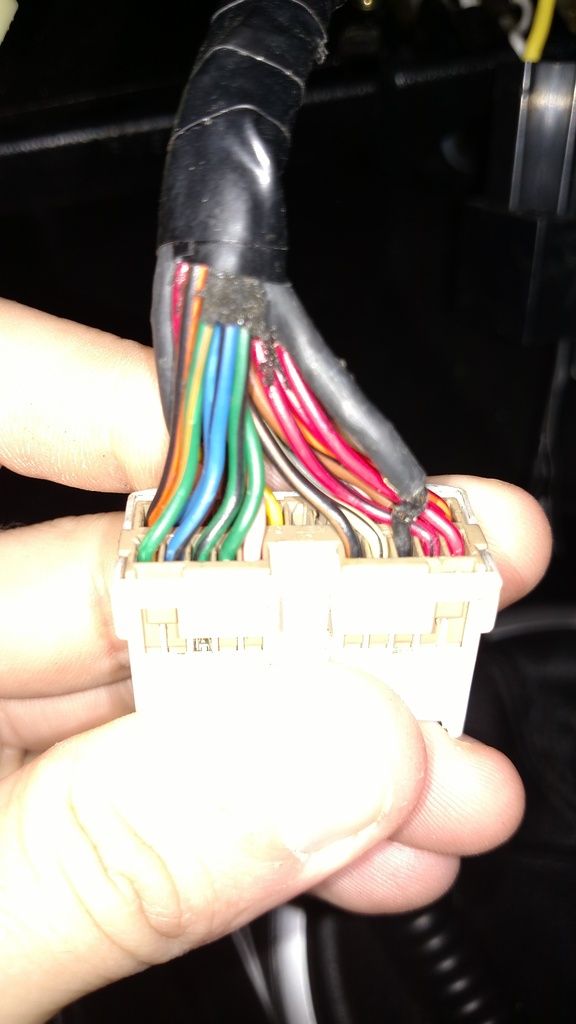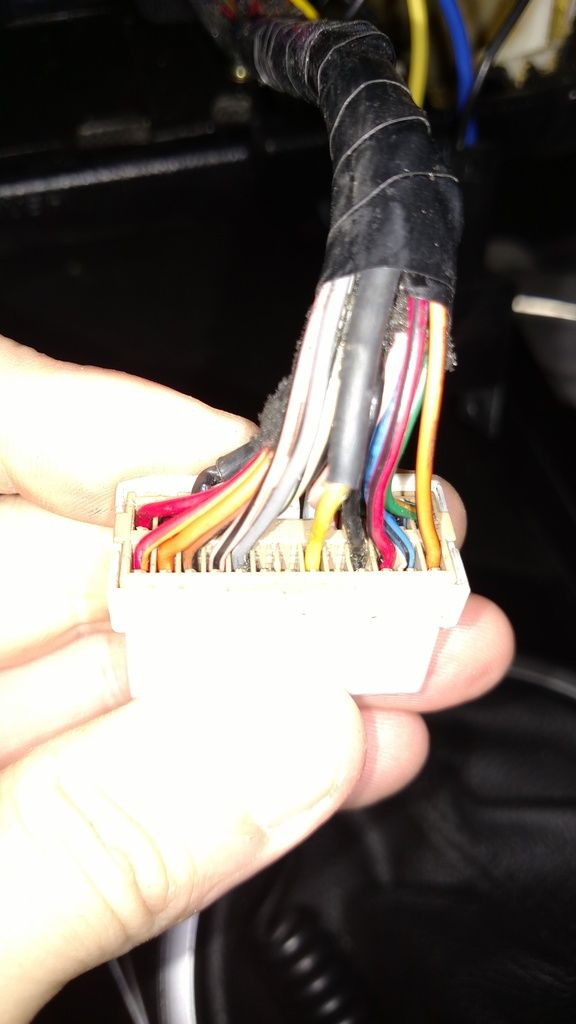 This one is a little more tricky to get the pins unlocked, so BE CAREFUL, and USE CAUTION not to break any of the locking tabs.
Remove pins # 1 and # 2, and swap their locations. (Black w/ Red stripe, and Red)
Remove pins # 7 and # 8 and swap their placements as well. (Green w/ Black stripe, and Green)
Remove pin # 17 (Yellow) and stick into slot # 18.
Remove pin # 18 (Red w/ Black stripe) and stick into slot # 21.
Remove pin # 19 (Blue w/ Black Stripe) and stick into slot # 22.
Remember that Orange w/ Black stripe wire we removed from the 6-Pin connector??
Stick that into Slot # 23.
Now remove a pin and some length of wire (from another harness) and stick into slot # 20.
Splice this new length of wire (USING SOLDER) with the wire on pin # 3.
Now, the worst is over!! Grab a beer and watch Judge Judy for a half hour. (That's what I did).
Now I think it's safe to bring out the shiny new relay you bought, and attach it to the shiny new wiring harness it came with.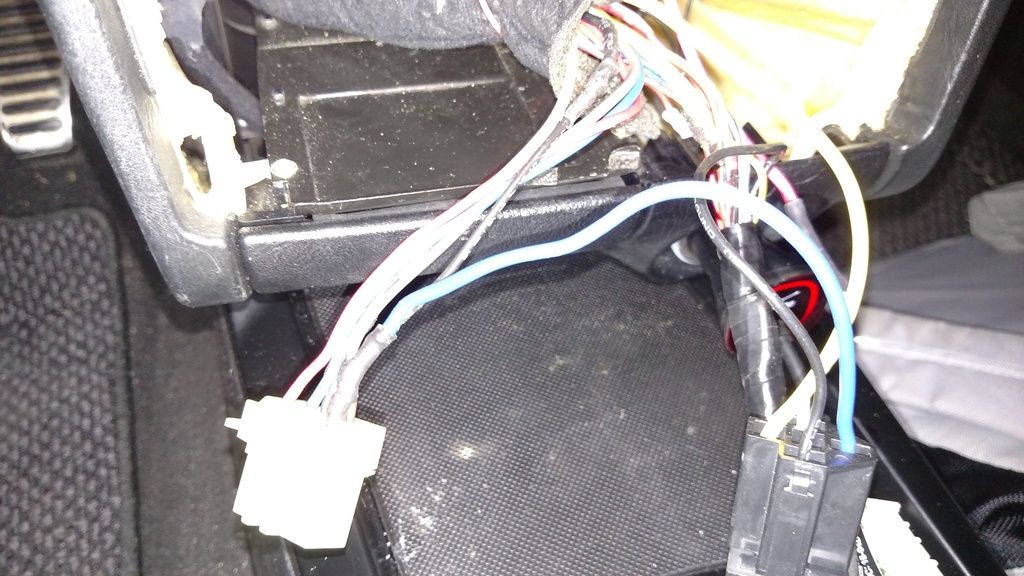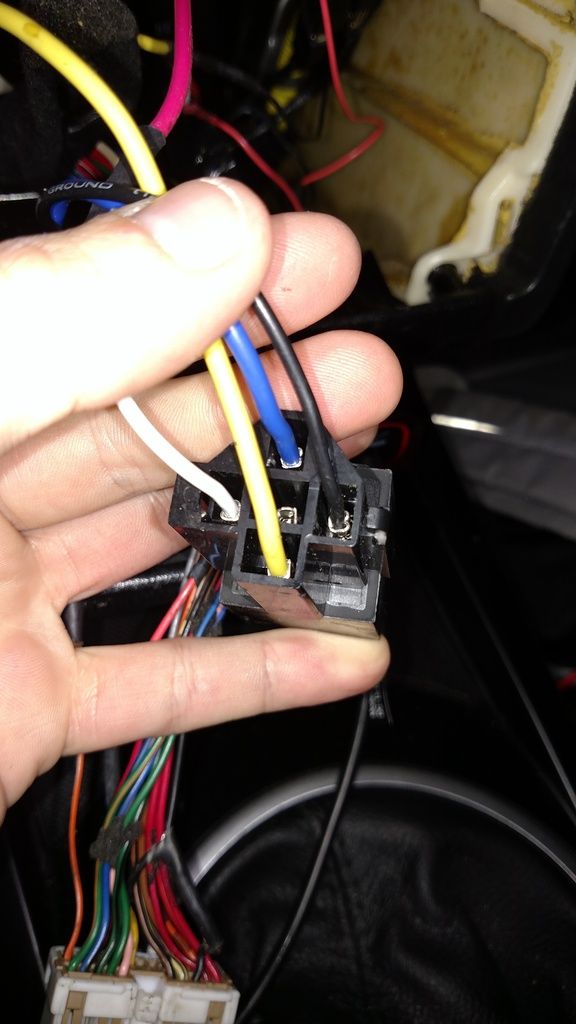 It's not mandatory to get the wiring harness, but it will make it a lot easier to follow along if the colors are the same.
Splice the Blue wire (Pin # 30 if you didn't get the harness) with the Black wire in slot # 1 of the 1st (6-Pin) connector.
Splice the Black wire (Pin # 86 on the relay harness) with the Orange w/ Black stripe wire in slot # 23 of the 23-Pin connector.
Check to see if Judge Judy is on again, if so, grab another beer. If not, move on to the next step.
Grab your 12v Test Light, and find a nice switched power source. (I tapped into my cigarette lighter because it was the easiest) It is important that you find a source that is only running power through it when the car is in the ON position (rather than ACC).
Grab some of your extra Red wire you have laying around. (18-20 gauge AWG preferably) and cut about a foot or so off. (Doesn't have to be red, but it's a good indicator that there's power running through it).
SOLDER the red wire to the White wire (Pin # 85 on the relay), and splice the other end to the 12v switched source you found.
This is the fun part. =)
Crawl down to the Pass. side floor boards, and carefully remove your glove box. It's been awhile since I've removed it, but from what I can recall its 6 or 8 phillips head screws, and the connector for the light. Be sure to take all of your stuff out first, or else it will all become a big pile on the floor.
Removing the glove box makes it easier to access the blower switch.