dsm fun! UPDATE 12-30-06
so my buddy offered me a dsm and the for the price i just couldnt refuse
only problem is i need to finish the 6bolt swap which is really easy sh*t. funny stroy behind all this....
my buddy bought the car off some kid for 6500, he fell inlove with it, drove it to his house from the shop where he met up with the kid, his house is 2 blocks from the shop, then he drove it from there to get it insured which is about 3 miles away, half a mile from the insurance company he throw a rod through the side of the block (pics below). well my buddy had it towed to the shop. well my buddy couldnt afford to have it repaired so after 2 months of the car sitting at the shop he offered it to me and so i bought it for 2300 :3_koning:
well here are the specs on the car
95 eaglon talon tsi awd
6bolt swap
fp ported and clipped evoIII BIG 16g
denso 720cc injectors
walbro 255
17" rota subzero wheels painted bronze
HUGE 30"x12"x3" fmic with super short route piping.
rear and front sway bars
dsmlink
tokico 5 way adjustable struts
eibach prokit...1.7" drop
35psi CF boost gauge
electric FP CF gauge
full 3" t-back...custom dp and thermal R&D catback
ported evo 3 exhaust mani
ported 2g o2 housing
symbrowski shift kit
greddy trust counterweighted shift knob
cross drilled and slotted rotors
hks type 1 turbo timer
well so the 6bolt engine that was included had a little surprise waiting for me lol good thing i decided to tear it down before dropping it in...well the number 3 piston ring land was completely destroyed (pics below)
pics of the car that the previous owner took
this is what happened to the 7bolt engine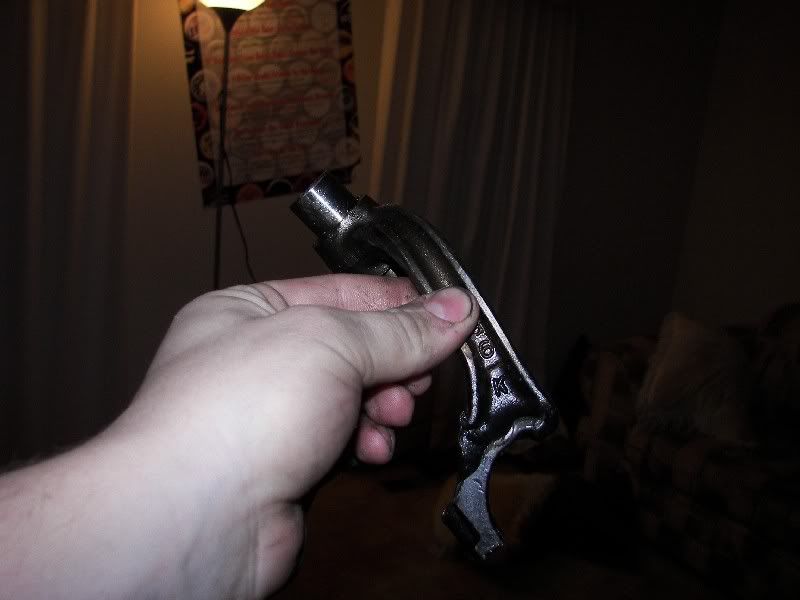 this is the destroyed ring land from the 6bolt engine
and a couple random pics from the stuff in my garage
in the next couple weeks i will be getting some pauter x-beam rods and weisco pistons 8.3:1
and then i dont know a lot other sutff lol