1. 7" 1-piece Ngm crank pulley
135 shipped
2. speedhut 3 pod a-pillar
45 shipped
3. J&S safeguard
310 shipped
4. 90mm Ngm throttle body (w/gasket/bolts, tps and iac sensors installed, 80/85mm reducers)
310 shipped
5.
SOLD!
Mapecu2 (includes 18, 16, 3 way harnesses), no invertors or ignitors for timing.
SOLD!
6.
SOLD!
Poly rear motor mount (yaya pressed into stock mount)
SOLD!
7.
SOLD
Ngm billet front motor mount (complete mount)
SOLD
will refund $20 when stock front mount is returned/not broken!
8.
SOLD!
Moroso catch can w/front valve cover w/welded –8 an line in place of pcv for catch can setup. Includes the line, cover, catch can and fittings.
SOLD!
9.
SOLD!
Ngm alcohol injection comes w/ original 10gph nozzle, plus 12 and 15 gph nozzles!
SOLD!
10.
SOLD
DC sports headers
SOLD!
11.
SOLD!
2.9" ngm sniper/assassin supercharger pulley
SOLD!
12.
SOLD
I pod cable (remember these?) for stock Hyundai infinity headunits
SOLD!
13.
SOLD
Fidanza hy5 flywheel (used)
SOLD!
14.
SOLD
Spec stage V clutch w/10000 miles on it
SOLD!
15.
SOLD
Kjb shifter base bushings and tranny linkage bushings (used)
SOLD!
16.
SOLD!
Built longblock w/ stage 2 heads/stock cams
forged rods and 8.8:1 low comp pistons-NGM rotating assembly. Built by duffee motorsports in phoenix, az, and oil changed religiously by me at 500, 1500, 3200 miles and switched to mobil one synthetic at 3200 miles, and oil changed at 6000 miles and 9000 miles. Motor and timing belt, water pump, oil pump all have 10k miles on them. You get everything together (already installed) including the stock cams w/ timing belt on etc. No front valve cover though, and accessories-shortblock w/ heads, cams etc. I have the build sheet for this, but it is setup like the ngm motors wrt ring gap etc.
SOLD!
17.
SOLD!
Ngm red powdercoated assassin
, natural aluminum icebox w/ necessary plenum, hoses, 460cc plug and play ngm injectors, oem tb billet plenum adapter, and belt... everything except for the tuner!
SOLD!
18.
SOLD!
Nissan gear modded 6 sp tranny
w/ 3.812 final drive ratio, and phantom grip lsd insert. All has been professionally machined and installed, with 50k total miles on tranny and 10k miles on the build. You want traction for your f/i car? go with this!
SOLD!
Paypal is
[email protected]
Thanks!
Locals get $ off if they pick up parts and pay cash, just ask.
I can take a certified check for the motor, just let me know. But I expect the $ quickly, so let me know if you are serious.
pic of catch can/line and clamps ... comes w/ front valve cover w/an fitting welded on in 1st picture above
J&S Safeguard knock sensor/ignition retard module
speedhut triple gauge pillar (black)
ngm 90mm throttle body... comes with install bolts, 80/85 mm reducers, gasket and sensors! (tps/iac already installed)
2.9" ngm supercharger pulley
solid poly rear motor mount
NGM alcohol injection
assassin (comes w/3.5" pulley/injectors/icebox/belt/oem throttle body billet adapter)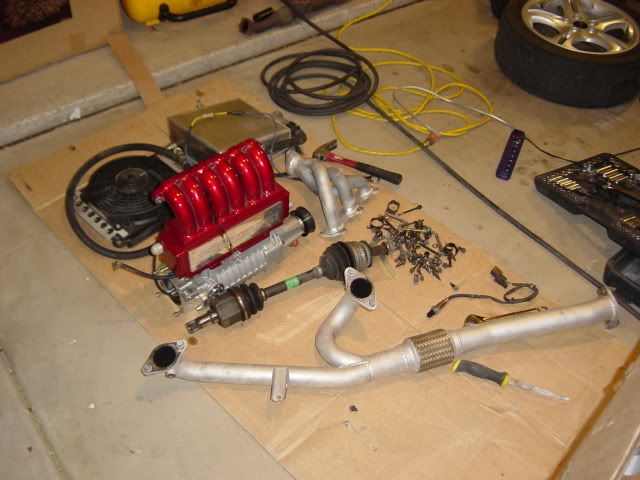 motor and tranny are out and ready to ship!