Discussion Starter
·
#1
·
Okay, I've gotten sick of people claiming to have searched and then ask a common question. Either they lied to us or they suck at searching. So I promised awhile ago, that when I get time, I would make a thread of how to search effectively. That time has come. I'm going to ask that this is stickied in this forum, in hopes that newbies will see it and read through it. I will make all of the font in this thread larger to make it easier to read.
In this example, let's say we need to find what is the best 6-speed short throw shifter.
You will notice on the home page, a search that will look like this: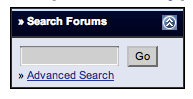 So it's pretty simple... let's start our search with a basic "Short Throw Shifter".
You'll see that we get a hell of a lot of irrelevant results, many of which are regional forums. That's not going to help much.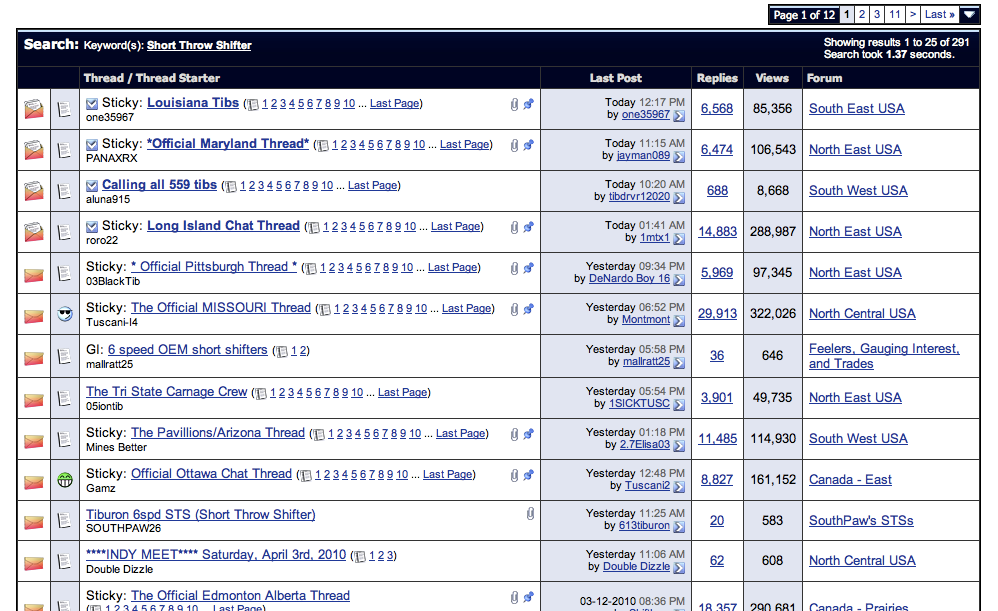 So let's delve a little deeper. If it is a very commonly discussed topic, you will notice that a lot of the newer threads consist of a lot of flaming and little information. This is a skill I picked up when searching: Try going to the last page where you start seeing threads from the beginning of the forum. There will be real answers with little-to-no flaming.
**NOTE** DO NOT POST IN THESE OLD THREADS!!!!!! IT IS AGAINST THE RULES OF THE SITE AND BECOMES VERY ANNOYING!!!! **NOTE**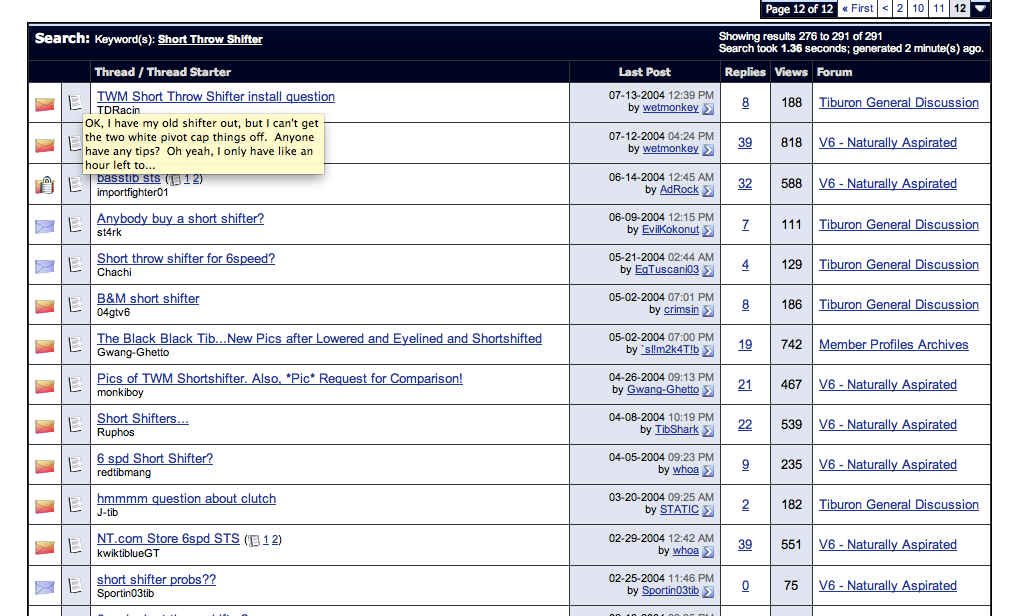 Now time to get more narrow and begin to develop your searching skills. On the top bar, just under the title, you will see a drop down, "Search" that has an option in it to "Advanced Search" (highlighted as my mouse is on it). Click on it.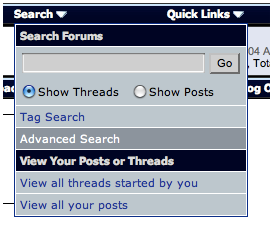 Now, type in what you want to search. Again, we are still searching "Short Throw Shifter". To narrow it down, on the right side, you can say exactly which forums to search. You can select more by holding Control and clicking (Command and clicking on a Mac). In this case, I selected Tib General Discussion, V6 N/A, V6 F/I, and Transmissions (I selected the V6, as only the V6 will have a 6-speed).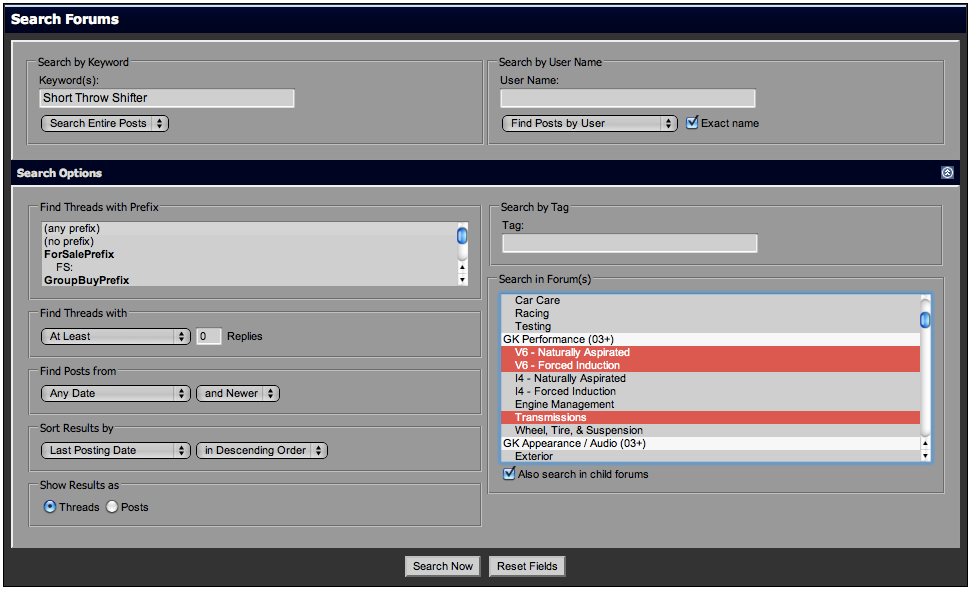 And we are led to this page... a more narrow search result, which will keep you from sifting through some garbage.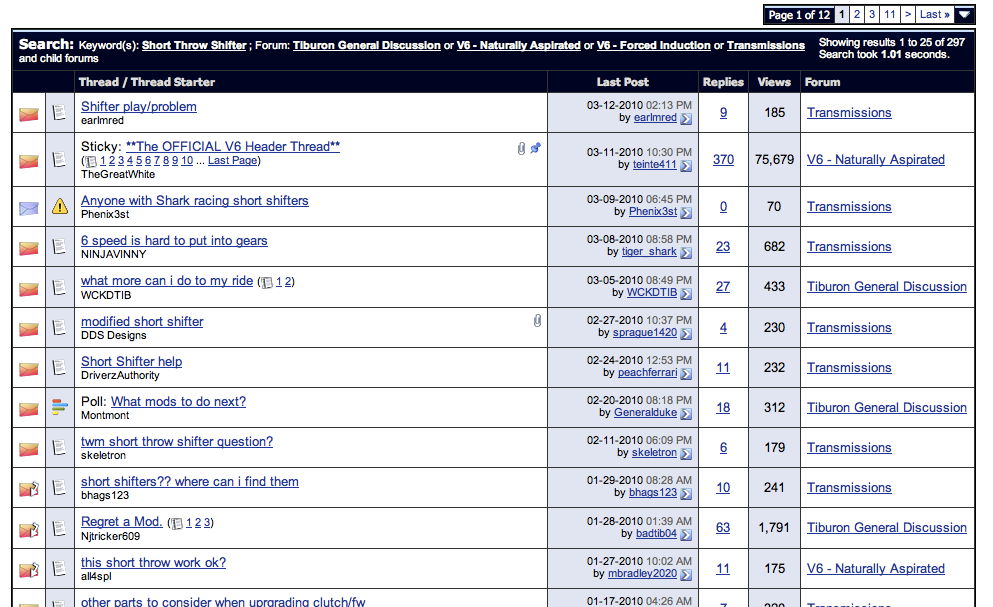 Still searching the same words, "Short Throw Shifter," you can narrow it down even more, by knowing generally the forum where you will find most of your information and only selecting that.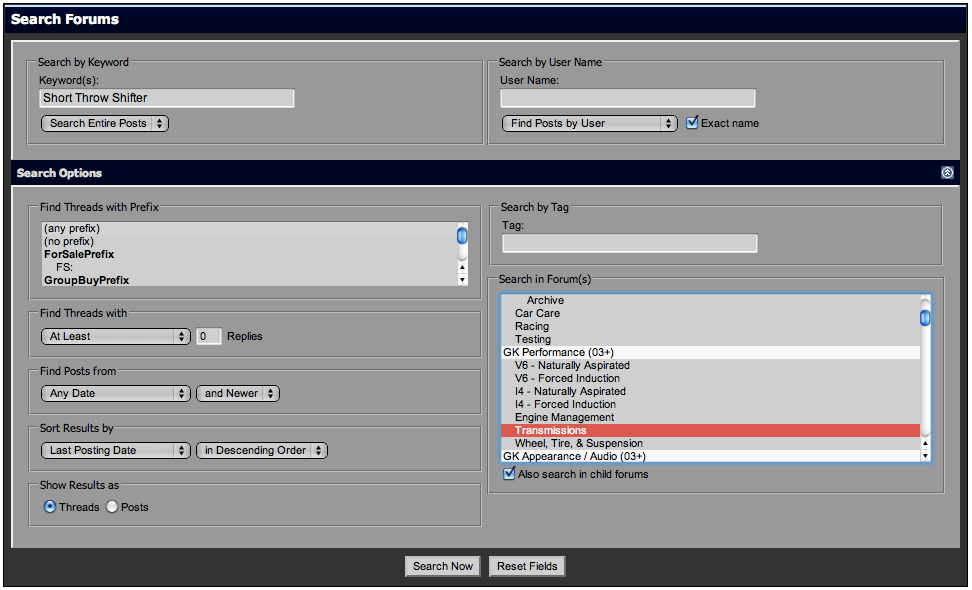 And yet again, we find a more narrowed search of ONLY the forum you selected to search. Be sure to utilize the prior skills I have already taught you, such as going to the very last page of the search forum with the oldest results.
If you don't find what you need on the first page of searching, don't give up. The search will provide up to 300 threads of what you searched. Be sure to keep going through more pages. You will find your information.

If you are still having trouble finding information you need. Try revising the searched terms. There are plenty of names and alternate terms you can search or add on. (Notice the search term changes in the pictures)
Reminder: Everybody was a newbie at one point. It is possible that the best information will be found in the newbie forum. Be sure to search in that forum.

Browsing is just as important as searching. If you browse through the forums, you can find information, as well. Again, DO NOT POST IN THREADS WITH A LAST POST OLDER THAN A MONTH!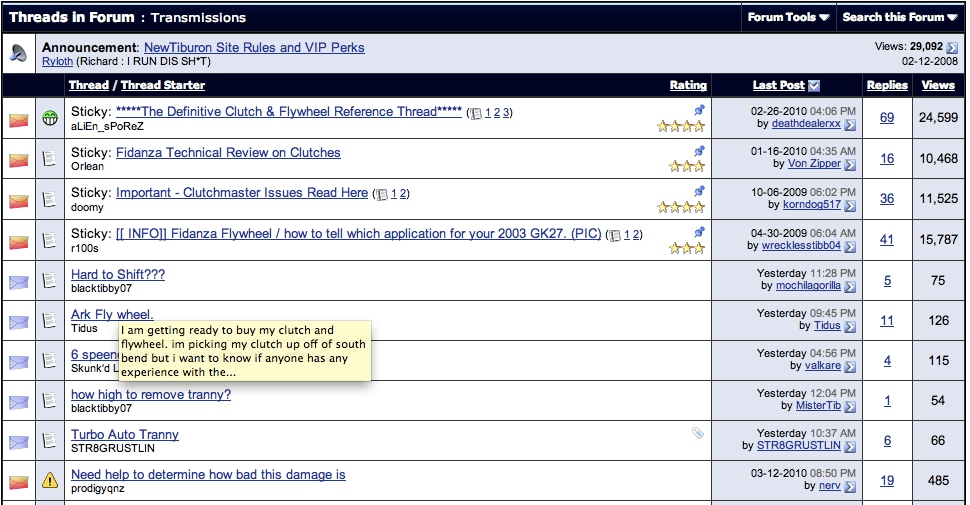 While browsing the forum, if you are having troubles, we have provided you with a quick way to search only that forum. Up on the top right of the thread listing, you have a drop down to search the forum.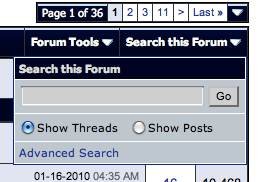 Many times, we have threads that contain very valuable information that is so valuable that we sticky it. Be sure to read through stickies. Nothing is more embarrassing than asking a question that was answered in a sticky of the forum you are asking. It also leads to extreme flame. This is what a stickied thread will have to signify that it is, indeed, a sticky. (Thumbtack)
If for some reason, you are STILL having problems on NT finding your information, try expanding your search. There are other Tiburon forums and Hyundai forums that can help you out. Google is your friend, which also offers an advanced search. (The day of posting this is Pi Day for those of you who read this later and are confused by the strange Google title.)
Be sure to quickly skim/read through threads before deciding they are unhelpful. Even if they seem unhelpful at first, something may come up later in the thread.
Searching for tags, quite honestly, will rarely find what you need. This is a somewhat recent addition to the site and many of the older, helpful threads will not offer tags. There are probably more tags about promo than anything else. My opinion, don't bother searching tags.
You have now successfully learned how to search very effectively. If you 100% honestly cannot find the information you are looking for, there is a chance... a very slim chance that it has not been discussed. This is when you can finally post a thread asking your question. Good luck with your searches and I hope this example could help you.