Discussion Starter
•
#1
•
Mona has been on the Tib scene for over three years now, and her car has gone from stock to mild to wild. Now, it turns heads and wins trophies in auto shows, and has even earned a spot in the NOPI Street Performance Compact Magazine.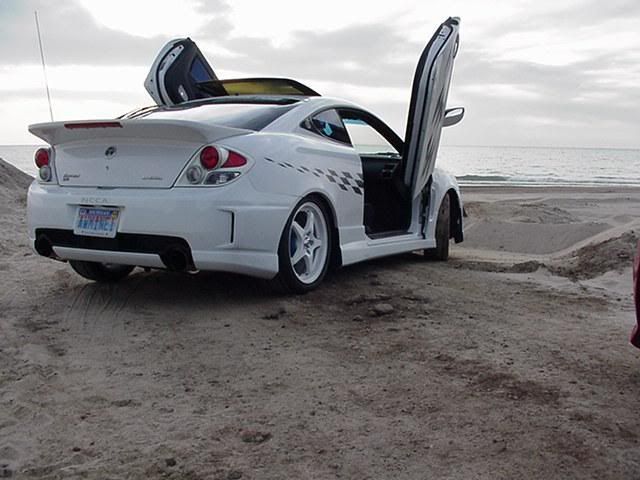 Q. Tell us a bit about yourself. When did you get into modding your car?
A. My name is Ramona Braddock and I am 40 years old. I reside in Bridgman, MI which is 90 miles east of Chicago, IL. I work for St. Joe Tool Co., which is a family owned business, and I have been working there for at least 10 years. We have been in business for 40 years. We make parts for the automotive industry. My family resides in Sawyer, Michigan. I have a 13 year old daughter that I enjoy spending time with. I like to be unique and that's why I enjoy modifying my cars so my ride won't look like any other car. I guess you can say being a tuner is carried in my genes since my parents are car enthusiasts themselves.
Q. How about the car. Did you intend to mod the car when you got it, or did you get it to be a daily driver?
A. The Tiburon was purchased in May 2002 to be a daily driver and to say the least, it took a turn for the better. Since that time I had customized it to compete in a "mild" class. Since I acquired my Tiburon in May, I have acquired 3 minor sponsors. With all the hard work that I've done on my car I'm lucky and fortunate to have my car featured this year in the NOPI Street Performance Compact Magazine.
Q. Do you have a central theme that you are going for? Do you tend to favor performance, appearance, or other mods?
A. I really don't have a theme at this time. I only have a couple of modifications done as far as performance and so most of my modifications are in show.
Q. What future plans do you have for your car?
A. My future plans are to possibly re-paint the car and maybe a different body kit as well.
Q. You've gone to quite a few shows. How have those been treating you?
A. I've had my car for three years now and this is my second year doing car shows. The list of shows this year is as follows:
McDaniel's Harley Davidson Calvacade of Wheels - 1st Best of Show & Wild Sport Compact
Motion Fest - 1st Best Import
Four A's Car Club - 1st Sport Compact
Coloma Glad Peach Car & Truck Show - 1st Best Interior
S3 Triple Crown - 1st Best of Show & 1st IASCA SPC Challenge Stock 1
This year I'm planning on doing at least 10 – 15 shows.
Q. Do you have any interesting stories about your car?
A. As a matter of fact I do have an interesting story on how I really got into modifying my Tiburon. One evening when I was home making dinner my doorbell rang, and when I opened the door to see who it was I noticed right away this guy was driving a red Tiburon. Seeing another Tib owner put a big smile on my face. So this guy then introduces himself as Darren Donnelly. I thought it was strange to have someone show up at my doorstep, even someone driving the same car as me. Darren had told me that a friend of his that he works with told him that there was a chick in his same neighborhood that drives a Tiburon and has a nice sound system in her car. Well, one thing led to another and we've become good friends and he's been helping me customize my car. I've done some of the work myself as well. Unfortunately Darren totaled his Tib, he was t-boned on the driver's side. Luckily 90% of all his parts survived the accident. I sold a lot of his parts for him, and some of his parts like the Tomato ANP body kit, Razzi spoiler, front & rear strut bars were installed on my car.
Mod list:
EXTERIOR:
Tomato ANP Body Kit
Razzi Spoiler
APC 3D Retro Tail lights (painted white)
Full Tuscani Conversion
Custom Powder Coated White Excel Rims
Cross-drilled Stock Rotors
Calipers (Powder Coated Blue)
Eibach Lowering Springs
ARK Duel Exhaust
Blue Angel Eyes
Blue Strobes in Headlights
Fiber Images C/F Hood
C/F Canards
C/F Eyeliners
C/F C-Pillars
Vinyl Graphics on hood
Under Body LED's
Blue Neon's in Gills
Blue Window Tint
ARK Metallix Vertical Door Hinges
ARK Blue Antenna
INTERIOR:
Chrome Dash Kit
Euro Gages
MOMO Shift Knob
Chrome Shift Plate
Chrome E-Brake
Chrome Billet Temp. Dials
Chrome Door Handles
Tuscani Steering Wheel Emblem
Blue Cloth Racing Seats (Custom Tuscani Logo)
Blue LED'S Under Dash & under seats
RRM Rear Strut Bar (Painted Blue)
Tuscani Door Sills
Diamond Plate Floor Matts
Tuscani OEM Footrest & Racing Pedals
Neon Shift Plate
ARK Vent Rings & Temp. Dials
STEREO:
Alpine CVA-1003 in-dash with flip-out monitor
Directed DV2602 DVD in-dash
Kicker KX600.1 amplifier
Kicker 10L7 subwoofer
(2) 6.5 screens customized for the side windows
6.5 TView flip-down Monitor in hatch