Hey guys, just wanted to give people a heads up if they were planning to have their NGM/Eaton supercharger rebuilt. I sent a few emails around earlier this year to rebuild shops and Charles at Magnum Powers was the quickest to respond. I also heard about him from dmdicks.
I agreed to have the blower fully rebuilt since one of the needle bearings in the rotor pack was completely trashed, lots of scoring on the rotor bore walls, and the rotor coating was 80-90% gone. Charles quoted me in addition to the rebuild over $700 and 5 weeks lead time as he claimed he sends rotors out to Eaton for the real-deal new generation abrade-able coatings. Apparently he didn't have any cores for the MP62. I figure ok, fine, I'm not going to be needing the blower for a while. This was on July 9th, the day before I paid for the services.
I boxed the blower up tight, wrapped in cardboard, inside another box with packing. Sent out UPS on July 11th and on the 18th he sends me an email saying he got it, great no problems right?
Well I send an email to checkup on it Aug 15th figuring they're probably close and he replied on the 21st saying they were starting on it and it would ship out that week. Ok, cool, no problem.
I don't get any more emails from him after that about it being done or on its way. Wondering wtf is going on I ask again on Sept 9th, 18th and the 28th, all got no response. This guys basically got alot of my money, my shotty chunk of aluminum and hes on the other side of the country so I'm a bit frustrated. I decide to actually give him a call on Oct. 2nd. No answer, goes to VM. I leave a message saying who I am and what I need, not nasty, just legit curious. He calls back later that day, but I missed it and he leaves a garbled VM saying "sorry, we will get to it this week, etc." Finally get an email response on Oct. 9th where he tells me it's done and shipped, gives FedEx tracking number. Finally!
Blower is delivered on Monday, looks like this... well that can't be good.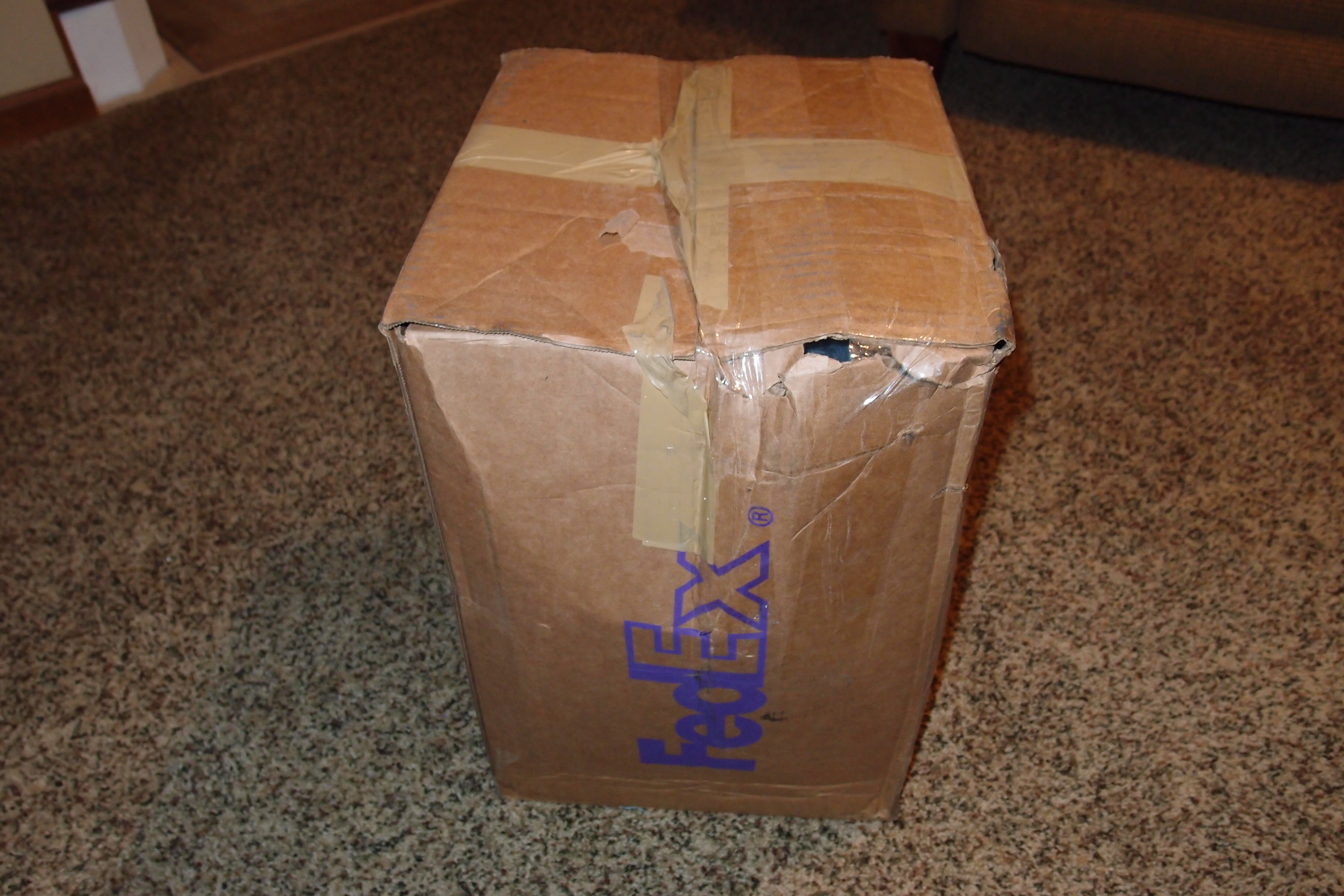 Sure enough, no protection. Just thrown in there with some balled up paper and a piece (one) of bubblewrap which I'm pretty sure is part of what I sent it with.
This is a 25 lb package for fux sake, you just can't do that! I was surprised the pulley nut didn't completely punch out the box. He did leave the foam I put around the pulley, but that was all. Fortunately after looking it over, there wasn't any serious damage and the rotors turn ok without scraping/rattling and he added the oil. The coating does look odd though. Can anyone verify that this is more than just a crappy hi-temp rattle can job?
Needless to say I am a bit displeased with Magnum Powers and probably won't use him again for anything. Not only was it really too far away for me, but he took almost 3 months to do a simple rebuild which was over double the quote and sent the thing back in a way that is absolutely unacceptable. I can't believe this guy still rebuilds blowers for a living!
So just a word of caution for those of you looking for rebuild services. Try Jon Bond or The High Speed Lab first.