Hello everyone,
I'd like to share with everyone a project that I have been working on it. It started summer 2012 when I thought of a design for a lip kit that would complete the exterior of my car, along with other plans. So I made a quick photoshop image of what my plans were at the time: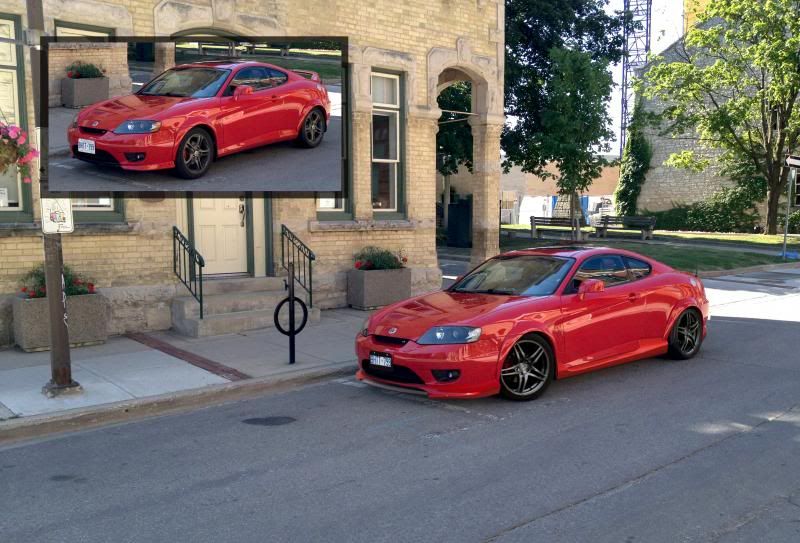 I got some of the modifications as pictured complete already, including lowering the car and new wheels.
I did go to school for industrial design which I am very passionate about so I have a good understanding of design in general, especially with automotive applications. But anyway, originally I thought I would produce it strictly out of fiberglass. I had access to a CNC machine for which I could have made a very rough mold. I never got around to doing that as my final year of school started and got
very busy
with my work as I had to work on my final thesis project. Now things get interesting: For this project there was a requirement to produce a hard model, and I have decided like many to get it 3D-printed. Unlike most who had their 3D printing outsourced, I went ahead and bought a printer, the Makerbot Replicator 2. Quite an investment. At first it was wonderful, I made a handful of Tiburon parts in my Christmas 2012 break. But then I had to go back to working on my school stuff when the final semester came about. As well, I have encountered many problems with this printer, so times were stressful. Anyway, school was finally out at the end of spring which meant I finally had some free time. So I went and acquired this CAD model of a GK Tiburon from the interwebs, and then designed my lip kit as a CAD model around that. I as well have modelled eyelines off of this model which I am currently working on at the same time.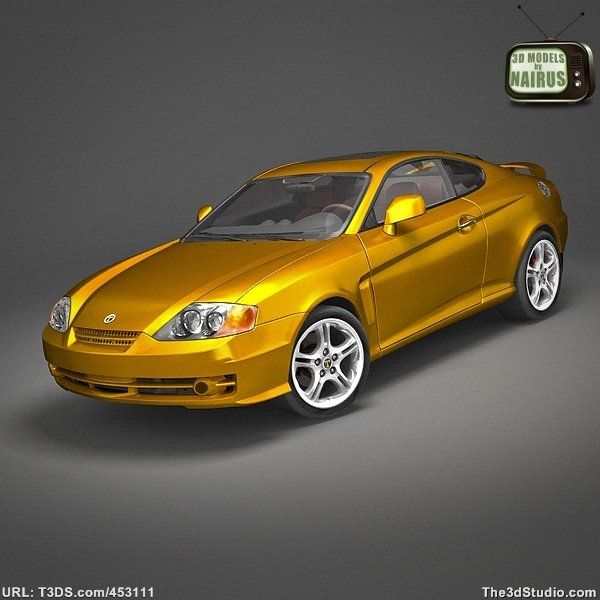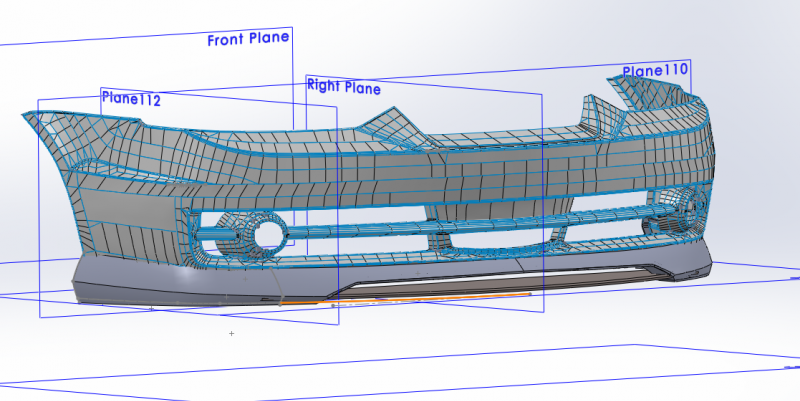 As you can see I based my lip around the GK1 bumper, but I believe both it and the FL bumper share the same curvature along the bottom so modeling around that should be fairly successful. You will also see in my design I essentially combined a splitter into the lip. This splitter section will be gunmetal in color like my wheels, and will likely be a solid piece of material (e.g. thick aluminum sheet or similar) bolted directly to the frame on which the splash guard is fastened to, and the lip kit can "clamp" around that for added support. I am no aerodynamicist but I am convinced my design will aid aerodynamic efficiency. Even if it doesn't I don't care, I think it'll be sexy
One of my goals with this mod is to keep the appearance fairly OEM if that makes sense. Those who have seen my other self-constructed projects probably know what I am talking about. Every modification I make on my car I make them appear almost as though the car was originally designed that way, without being boring. So this lip kit will essentially be an "extension" of the original body lines among the bottom of the car, but will transition into my fender flares in more refined fashion. I will reveal the side skirts and rear pods later on, for now I am focusing on the front to ensure the rest of the kit "matches up".
With this printer though I am limited to just a 11 x 6 x 6 inch printing volume so I would have to print out the lip piece-by-piece, fiberglass reinforce it from behind, and give it a nice coating of body filler on the outside surfaces. Some of you may think, why not just print out a mold and lay-up fiberglass to that? Well, while that would work, I am curious to see how the printed PLA material holds up to driving conditions. I am convinced it would work out really well as the material shares many properties to those of ABS plastic, but is a bit more "tougher". Plus as far as I know this method has not yet been tried by anyone so it makes for a good experiment.
Here are the results so far: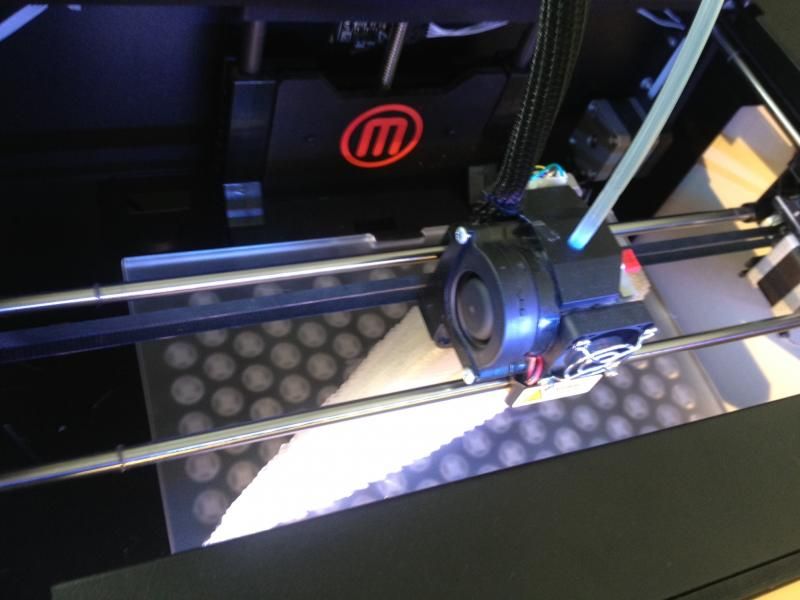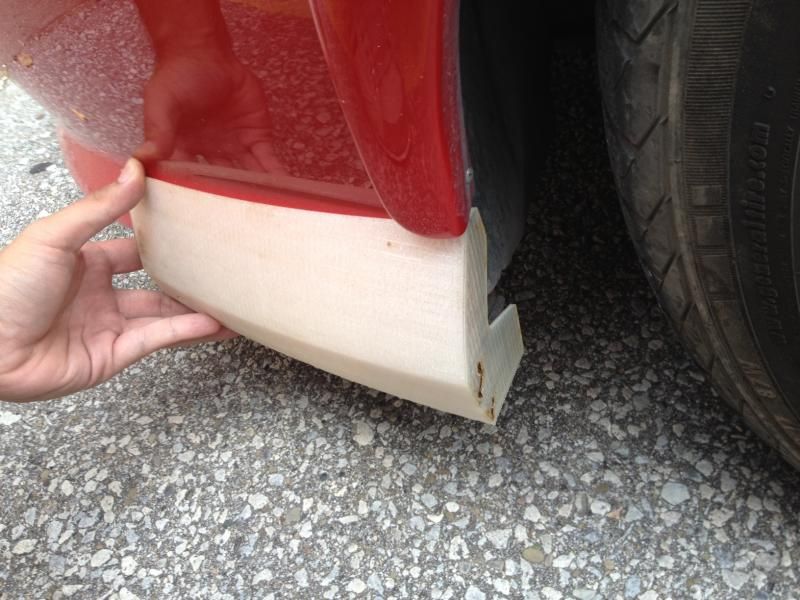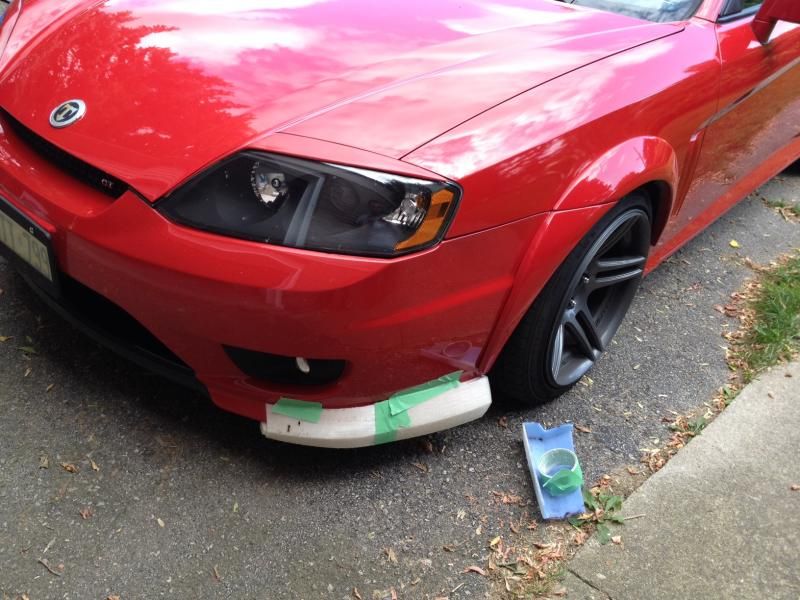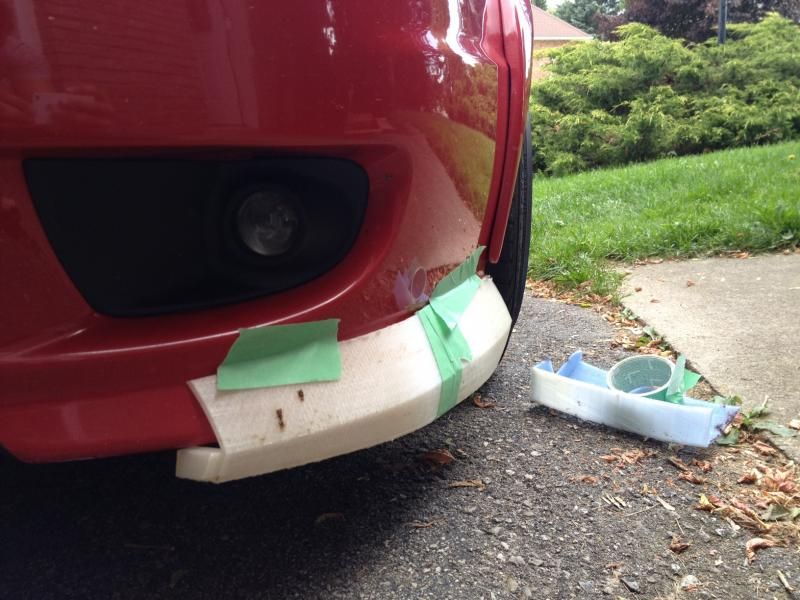 About a month ago I printed out two pieces for the front lip, and then cut up with the dremel a bit to make it fit better. I know there will probably be a great deal of trial and error with this project and that's ok. As you can see these pieces look a bit gross with the brown spots. My printer hasn't been the most reliable and right now it had a problem with the insulation material coming off which has been causing that happen. As of right now the nozzle shooting out the material got so clogged that it's no good anymore, so I am afraid I'll have to order new parts and get back to printing a week or so from now. Between waiting on printer parts, doing the actual printing, going to work and having a social life this project will take the next several months to complete but I will get it done because I need this kit to complete the exterior on my car. I as well have 90% finished my interior so come 2014 my car will be complete appearance-wise which is rather odd to think about. As we all know, our car projects
never
finish! lol. Oh well, time will tell.
Alas, I am very excited