Discussion Starter
·
#1
·
NGM MAFTERBURNER STAGE 1​
I purchased the original NGM Mafterburner back in mid 2004 when my car was a lightly modded N/A machine.
The install was simple thanks to TC's great video that holds your hand throughout the install. The only difficult part was getting my hands in that damn tiny *** space where the ECU is. Other than that it was very easy.
To this day I feel this was a very necessary and very useful and reliable mod. I have tuned my fuel on the dyno over 21 times and it has worked flawlessly each and every time. I have now tuned my car over 10 additional times using my wideband and again it has worked every single time.
Using the mafterburner could not be simpler. Plug in your laptop, do a run on the dyno or using your wideband and simply add or subtract fuel in open loop mode with a few mouse clicks. Save your updated file and do another run until you have your fuel where you need it.
Here are some screen shots of what it looks like when you are tuning your car: (Warning, DO NOT use these fuel settings, you could damage your engine. Tune your car on a dyno or with a wideband.)
Logging on:
SELECT THE 3RD COLOR ICON TO THE RIGHT, THE BAR ICON:
MAKE YOUR RUN (I DO IT ONLINE, SCREEN CAPTURE SHOWS OFFLINE), TUNE YOUR FUEL BY CLICKING THE UP OR DOWN ARROWS DEPENDING ON IF YOU RAN RICH OR LEAN ON YOUR RUN. CLICK SAVE TABLE THEN MAKE ANOTHER RUN AND REPEAT ABOVE STEPS TILL YOU HAVE YOUR FUEL WHERE YOU WANT.
~*~*~*~*~*~*~WARNING~*~*~*~*~*~*~​
You MUST purchase your mafterburner from TC at
nxtgenmotorsports.com
. The mafterburners at
www.mafterburner.com
WILL NOT work with the tiburon.
I am a nerd, here is what I do each and every time after I tune the car. I make a screen capture of my settings, save them in a folder along with a list of my mods, my hp gains and a copy of my dyno run.
This is named 2.75" pulley:
This is the dyno run, the red is before tuning and the blue is after: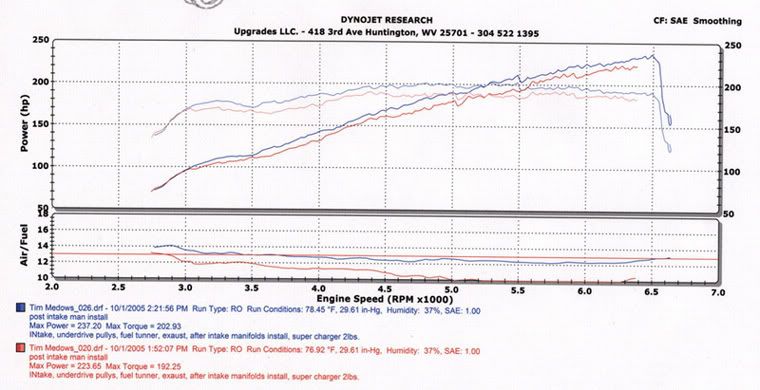 Then I make an excel spreadsheet showing the gains/losses lol:
That spreadsheet screen capture is of the incomplete spreadsheet but it shows you what I do.
Now thanks to the mafterburner I am running around 275-280whp
Now go call TC and pick one up for yourself. Feel free to post here or PM me any time for help. If you live fairly close to me give me a call and I will help you tune your car with my laptop and wideband.
THANK YOU FOR READING MY REVIEW, I HOPE YOU LIKED IT