The Official Car Show Preparation Thread....
This thread is dedicated to getting ready for shows and events. Let's get input from members on the following, as well as other items that may be important.
1. Show and shine prep (Waxing, interior cleaning, wheel polishing, tire presentation etc...)
2. Running electonics at car shows.. : (Installing and the use of power supplies, inverters and such, also being able to use electronics without the key in the ignition)
3. Determinig what class your vehicle belongs in for car shows (Mild, Wild, I.C.E, Peformance and so on)
4. What different items mean in classes (i.e. Decibal drag categories)
5. Helpfull suggestions on giving your vehicle the extra edge over the competition for judgeing. What can be done to make yourself stand out.
Let's try and keep the chatter minimized in this thread, and only post things useful to other members. Any first hand experience would be greatly appreciated, but anybody is welcome to give their input as long as it is truthful, and helpful.
Section 2 (How to run car audio without the key in the ignition)
This shows how to run a switch so you can have the radio on a constant power (for car shows) or on a rem power (Regular radio use). This is indicated in the gray shaded area.
Courtesy of cycon82: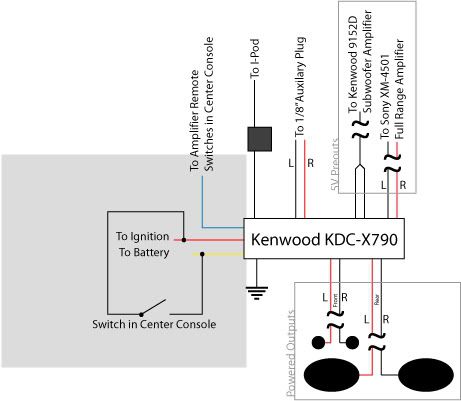 Section 5 (What judges are looking for from the NCCA):
To start off right, introduce yourself to the judge – let him know your name and where you are from. If you traveled a large distance to make the show let the judge know this immediately. Let the judge know if you belong to a club/team, this is especially crucial if you are displaying in a vendor booth or are located in a special feature area of the show. When being judged at an NCCA event, it is crucial that you open all parts of your vehicle for display. If your doors hood and trunk are not open this would be the time to do so. Ask the judge for a moment to prepare your vehicle. A NCCA judge will only judge what he can see. Next, hand the judge your windshield card. This is the judging form that you received at registration. It is crucial that this paper is filled out neatly and legibly. It acts as a backup in case you are not at your car when it gets judged. With time constraints put on the judges, they are unable to search for a vehicle owner or skip a car and come back to it. If this paper is filled out and left on the outside of the windshield the judge will be able to use it as an aid in his process. (NCCA rules require a representative to be with the vehicle during judging. A NCCA judge will NOT touch a competitor's vehicle). Some competitors go a step further and make a custom modifications sheet with illustrations and charts. This is a great addition as it will make legibility questions disappear and give you more time to speak with the judge. If you choose to make a custom modifications sheet be sure to attach it to the one provided.
The next step in the NCCA judging process is for you the competitor to walk the judge through the vehicle. With only 2-3 minutes for you to do this you must be direct and to the point, make sure not to repeat yourself so you can fit as much information into your presentation as possible. Make sure you work your way around the car, you do not want to skip back and forth from say an engine modification to a interior modification then back to an engine modification again. The most crucial aspect of this presentation is to familiarize the judge with components that are not visible to the eye, modifications such as internal motor work, or special wiring adapted to fit a custom application. It is also good to have some type of documented proof that these unseen modifications are true. Not that the judge is going to question honesty, but it makes your presentation more thorough. Having pictures of the mechanics performing the work is the best, though a dyno sheet of the increased horsepower is great too. Some competitors have even begun to use pointers as part of their presentation, you can pick one up at any gadget store for about 20 bucks. You can point to which ever modification you are discussing. Here is an outline of the information that you want to include in your presentation, do not be embarrassed to have a page or two of notes with you. It is important to be thorough.
1. Year, make and model of your competition vehicle and your reason for selecting the particular vehicle
2. Exterior modification including the wheels
3. Engine modifications
4. Interior modifications including the audio and video system
5. Suspension modifications including the brakes
6. Undercarriage modifications
7. Future modifications for the vehicle if any are planned Let the judge know about the modifications that were performed throughout the vehicle.
Tell him your reasoning for choice of product. If you recently changed a product because of looks and /or performance let him know the old product and why you made the change. Include the brand names in your presentation and your reasoning of choice for a particular brand's product. Also remember to open and close all exterior panels (doors hood and trunk) to show the judge that all seams line up properly. Once you have finished you presentation, step back and allow the judge some space to walk around the vehicle a few times, he is now concentrating on the scoring, let him have some time, but stay near the vehicle so that you may answer any questions that he may have. While the judge is going through the vehicle he may point out something that is causing a major points loss.
The judge is not going to tell you every deduction but will point out something crucial. It takes a judge about three to five minutes to complete the judging process. Try not to interrupt the judge during his walk through. Once the judge has made some notes and comments on the score sheet, he may ask you a few final questions concerning you installation of products or may suggest a few additions or adjustments that may enhance your overall point totals for your next competition. If you forgot to tell him something about your vehicle this would be the right time to bring it up. Now that you have been judged it is time to enjoy the show. Remember the judging process should be educational for both the owner and the judge. Openness is encouraged for both the improvement of the judged and the judge. Good Luck and Keep Showing!