PROJECT TIDAL WAVE
It's a 2006 Tiburon Tuscani, purchased brand new in February of 2006.
Tuscani was a Canadian trim level for 2005-2006, it came with the T badges and the T wheel caps also. I believe everything else was basically the same as the SE.
At 60k kilometers and problems so far are the clutch master cylinder exploding and now something is wrong with the clutch or related where it gets stuck in gear. So new clutch/flywheel has been purchased and will see if that fixes it. And getting rear ended.
So, new pictures, mod list, and old pictures below. Will be updating as things are installed.
Only have these crappy phone pics that are recent: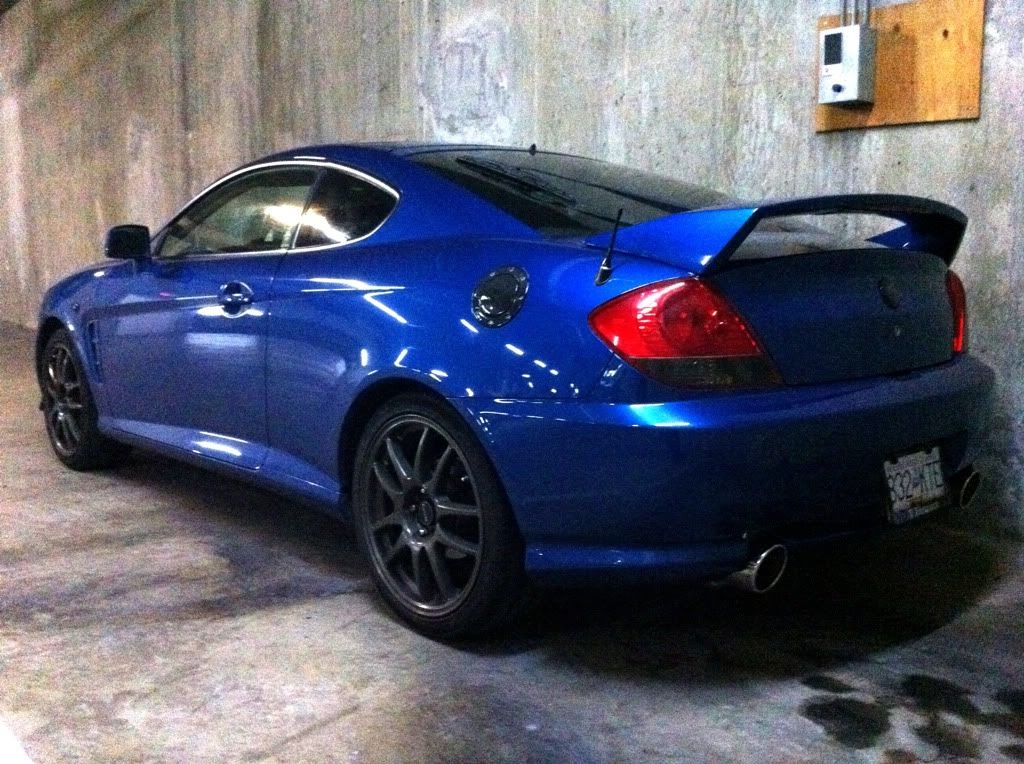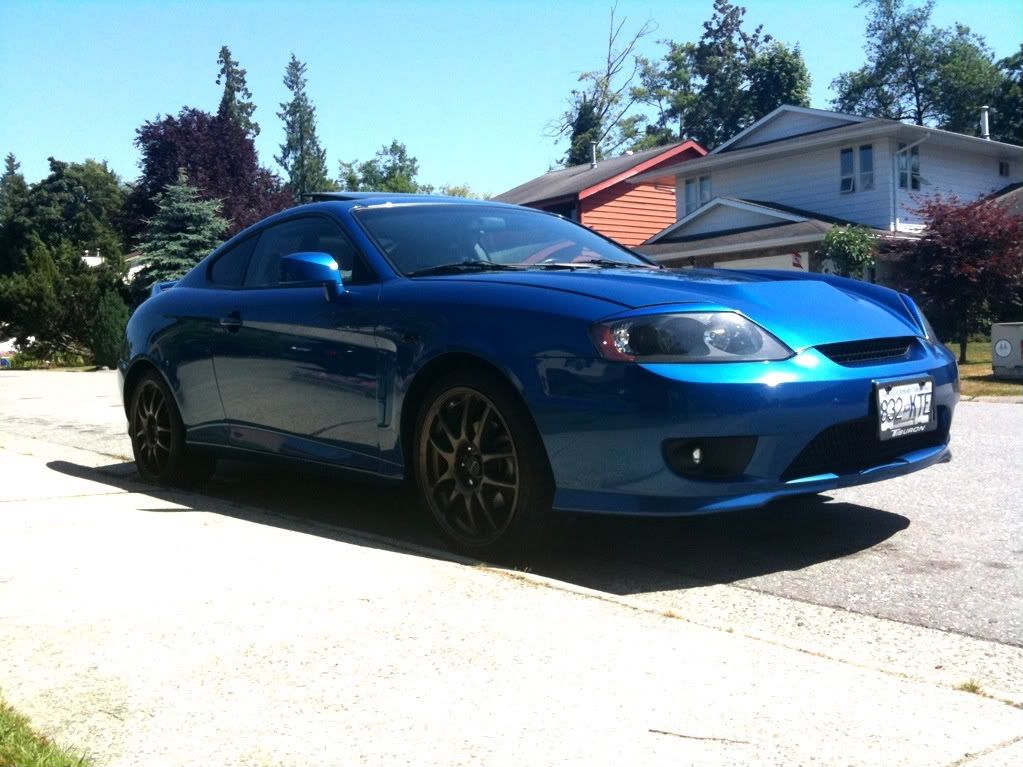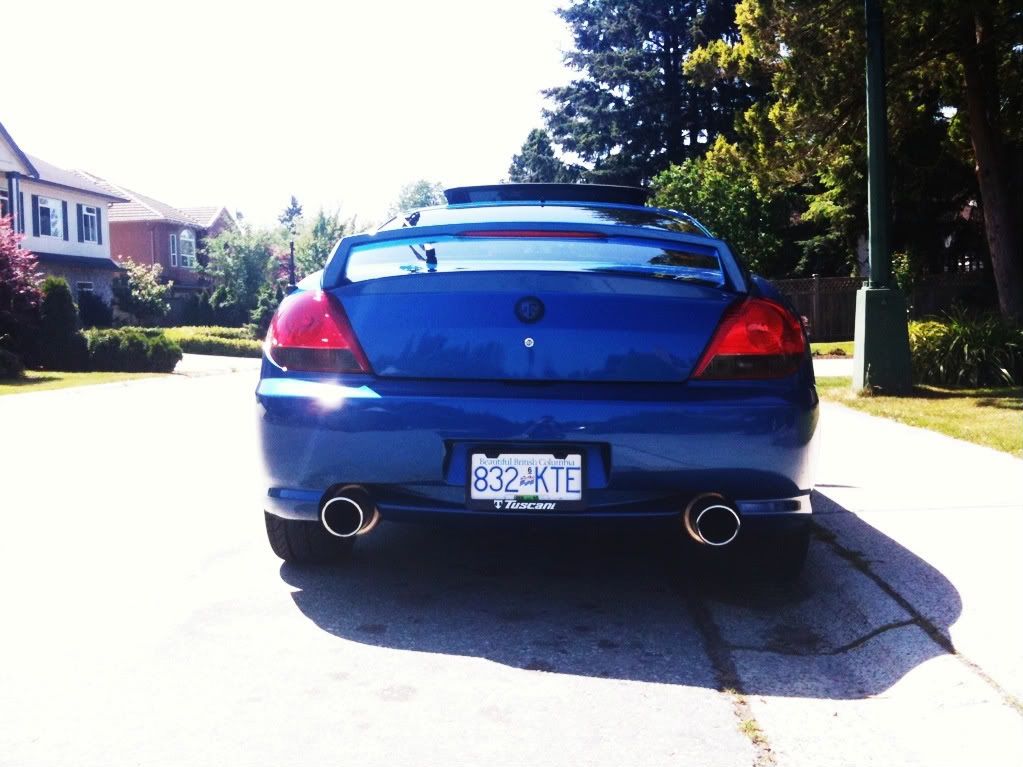 Current mods:
Performance:
ARK DT-S Dual Catback Exhaust
ARK 6-speed STS
ARK Front Strut Bar
ARK Rear Strut Bar
Fujita Short Ram Intake
Weapon R Engine Damper
KJBMotorsports Delrin Shifter Bushings
KJBMotorsports Shifter Base Bushings
Exterior:
VIS Invader Carbon Fiber Hood painted
Carbon Fiber Gas Cap (FFF)
Painted Blue/Black Tuscani Badge (FFF)
ARK Billet Antenna
Tomato A&P Eyelines (ImportShark)
8000k HID Headlights (Jay-M)
Dual Changing LED 48-SMT Tower Front Turn Signals (Infinite-Lighting)
Nightshaded Side Repeaters
Smoked Rear Turn Signals (staw)
High OEM Spoiler
Tint
Wheels/Tires:
18x8 +48 Bronze DR31 (light at 19 lbs each)
225/40/18 Kumho Ecsta ASX
Interior:
ARK Vent Rings
KSPEC blue metal multigauge face plate
KSPEC blue metal vent rings
Exos Lever Rings
Exos E-brake Ring
Exos Tweeter Rings
Midnight Wolf Mission Plate
Midnight Wolf E-Brake Pull Cover
Midnight Wolf Engine Emblem
Leather Tuscani embroidered seat belt pads
Custom Tidal Wave door panel inserts
Tuscani wheel emblem
KDM Passenger Cupholder
Audio:
Alpine CDA-9883 Head Unit with 160GB iPod Classic
Alpine 12-inch Type-R (SWR-1242D) Subwoofer in the back
Alpine 500 Watt (MRP-M500) Amplifier
Purchased / Awaiting Install
Clutchmasters FX200 Stage 2 Clutch
Clutchmasters Lightweight Flywheel
GT Tech Rear skirts
GT Tech Type 2 Side skirts
2-way alarm with remote start
Upcoming (soon I hope) Mod List:
M&S Front lip
Nightshaded Tails
Lowering Springs (ARK?) with KYB-GR2 struts
Headers (SSA v2 or DC if I can find them)
Tuner
Sniper
My Garage
And all these pics are slightly out of date now: