Discussion Starter
·
#1
·
Hello again!
Today is the day that the tib finally gets a little more love, where im a trying to solve the kdm reflash ecu + safc CEL at WOT. As a few members here have already seen my build come together a couple years ago, here is a little more info from my research and kit development! Hopefully the tuner gods on newTib can help me find a solid solution to my findings.
Since i am still a college student and too broke to fork out more money for a standalone, i have taken the time to research how to really setup and tune with an SAFC-ii. As you might already have a wall setup against the SAFC keep in mind that i do have a reflashed ecu that does know how to respond to boost! In this post i am going to cover the basics and how to really use the SAFC Safely!
Here are my list of mods!
2.0L 2004 MAF to MAP converted Tibby
Precission T3/T4 super 60 (18psi)
Speedfactor Semi-balanced manifold
Full piping and 24x9x3 intercooler
Tigerlily 8.5:1 coated and balanced pistons
60lb Siemens Deka Injectors (630cc at 43.5psi)
255lb Walbro Fuel Pump
Aeromotive Rising FPR 1:1 with a return style fuel system.
(currently setup to a 50 psi + 18psi when in full boost, so max pressure 68psi)
Fidanza light weight flywheel
Clutchnet Stage 3 sprung clutch
ACT Push pressure plate + Conversion Lever
Full Cry02 system
-Fuel bar
-Intake bulb
-Intercooler sprayer
System upgrade 65mm BBTB
Ported and polished Intake manifold
HKS ssqv BOV
Active Autowerke BOV
38mm Tial wastegate
2.5 inch cat-less Exhaust full back
Electronic E-Cutout after down pipe.
KDM SFR Reflash ECU (tuned for 18 psi with a hyundai 2.5 Bar Map - reference)
SAFC II piggyback with a 3bar GM MAP configuration
Zeitronix Wideband Logger System
Pics of my lady! Iphone 4 crap quality but you get the idea.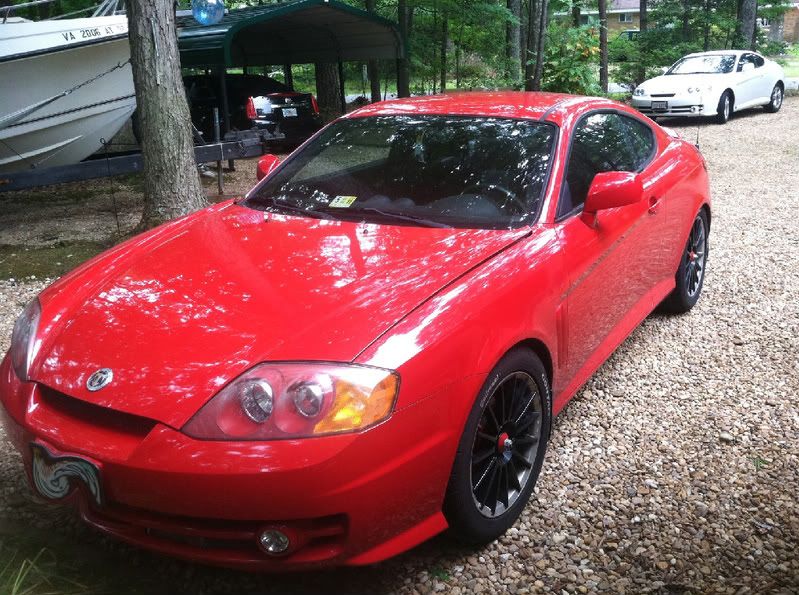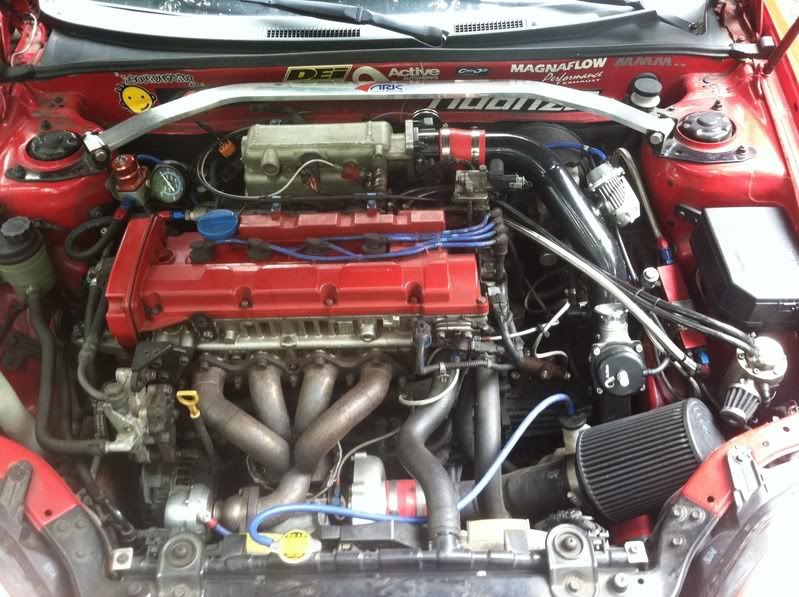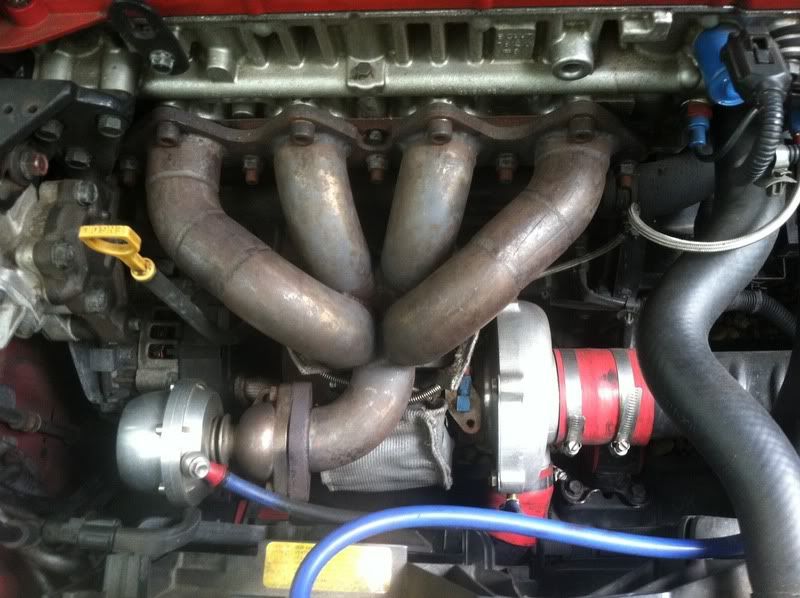 Here are the initial settings for my SAFC-ii for the gm 3bar map setup. Keep in mind that my ecu was tuned for a 2.5bar map sensor.
cyl - 4
arrow - up
Type of sensor - Pressure
Sensor n0.
in - 14
out - 06
Hi Settings
800 -- -18
1000 -- -15
1600 -- -20
2200 -- -10
2800 -- -10
3400 -- +5
4000 -- +10
4600 -- +20
5200 -- +22
5800 -- +22
6400 -- +23
7000 -- +25
Lo settings
800 -- -15
1000 -- -15
1600 -- -15
2200 -- -18
2800 -- -18
3400 -- -18
4000 -- -18
4600 -- -15
5200 -- -15
5800 -- -15
6400 -- -15
7000 -- -15
WOT Air/Fuel Ratio is 10.4 - 11.2. Cruising AFR 13.2-13.8
This was a first run of the day on the street and i am still getting some problems with high map voltage at 5k rpm plus. I do find this kind of strange as the 3bar should be reading about 3.8-4.0v at 18 psi. High map voltage i guess can be caused by me adding +20% correction but this is a must due to the fuel requirement for safe boosting. Going to change the Sensor n0. to in - 14 and out - 05 and run a retune to see how she likes it. This might solve my high map voltage to the correct parameters.
Tomorrow might be a better day for that as the weather is setting up to rain right now.
Link here for the Zeitronix 4th gear pull to about 4500 rpm. Sensor on the bottom is the map voltage output to the ECU.
Zeitronix Data Log